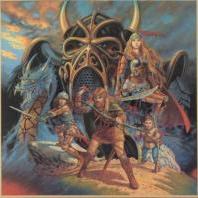 About This Club
A massive chair floats amid soft white light. The gold of its delicately carved frame gleams warmly. To the right of the chair, an ornate stand strains beneath a huge crystal globe. To the left of the chair, another stand holds a large book. Between the stands, an old man in bril- liant white robes nods on a glistening throne. One hand rests on the globe, while the other lies poised on the book. The face looks as though the eyes closed only a moment ago. Yet the man does not move, nor does the thoughtful expression change. For this is Astinus of Palanthus, Lorekeeper of the World. Astinus ranges across the face of the world, searching out the bravest deeds of men, recording the acts of greatness otherwise left unsung. This is the historian's historian: Astinus is there as history happens. Yet the man has never left this chair.
What's new in this club

Tika Un brivido mi pervade e la vista si offusca leggermente al tocco dello spitiro, mi metto un mano sulla nuca ma non demordo, stringo la padella in mano e con un rovescio la dò in faccia al non morto.

Raistlin Che spreco sussurro mentre scaglio dei dardi di energia magica contro il non morto. @AndreaP

Goldmoon Vedendo il sangue dei compagni cominciare a scorrere, Goldmoon decise di concentrarsi sulla cura, non essendo decisiva nel combattimento.

Sturm Fallito il tentativo più indiretto, Sturm decise di unirsi ai compagni nella tempesta di acciaio contro lo spirito. DM

Tanis Il mezzelfo continuò ad incalzare lo spirito ombra, certo che l'unica soluzione per loro fosse distruggerlo una volta per tutte. Temeva il suo tocco, sapendo quanto fosse distruttivo per il corpo e per la mente. DM

Flint Con un essere così, c'era poco da chiacchierare. Andava tirato giù il più in fretta possibile. Nuovamente il nano mouse l'ascia cercando di fendere quella parvenza di vita.

Council Day 5 Twilight Home 351 A.C. - Mattina? [Pioggia? - Autunno] - Lunitari 1° giorno gibboso crescente Il cerchietto era incastonato nel cranio della creatura e provando a toglierlo Sturm si rese subito conto che non sarebbe stato estraibile senza ammazzarla Riverwind si mosse per affrontarla ma veloce questa evitò il suo colpo, mentre Tika al suo fianco riuscì a ferirlo. Anche Tanis riuscì a ferirlo con un fendente Fu però Flint a cogliere l'occasione e con un fendente squarcio parte dello spettro La creatura si voltò verso Tika e allungò la mano ferendola alla spalla @all

Flint Con tutti i compagni impegnati a combattere lo spettro, Flint cercò un varco per fare lo stesso. Con qualsiasi parte del corpo quell'essere lo teneva, un buon colpo d'ascia poteva portarla via, che fosse testa, posso o caviglia.

Tass. Mentre gli altri si lanciavano verso il non morto, Tasslehoff usò quei momenti di confusione per strisciare fuori dal cerchio magico ed esortando Raist a fare lo stesso: maledizione Raist, muovi quel culo!

Goldmoon La sacerdotessa abbassò le mani, e con esse il suo simbolo sacro: sapeva non sarebbe riuscita a scacciare quello spettro. Attese che i compagni risolvessero la situazione, pronta ad intervenire per aiutare chi ne avesse bisogno.

Sturm Seguendo le indicazioni di Raistlin, Sturm provò ad agganciare il cerchietto sulla punta della Brightblade e a sottrarlo allo spettro. DM

Tika Corro anche io verso l'anello menzionato, con non poca paura, padella e scudo in mano. Dm

Tanis Con Riverwind che aveva preso di mira il cerchietto come suggerito da Raistlin, Tanis si gettò invece verso il non morto impugnando la vecchia spada lunga, nel tentativo di distrarre la creatura da Tass e dal loro mago. DM

Tass Il kender provò una fitta di dolore dove il non vivo l'aveva toccato, ma poteva andargli molto peggio: non molto intelligente da parte di Raist pensò, ma del resto non tutti sono intelligenti come me.

Riverwind (umano barbaro/ranger) Il barbaro maledì la curiosità del mago che aveva risvegliato quell'essere facendolo rivoltare contro di loro. Si preoccupò poi enormemente nel vedere poi il povero kender gettarsi contro il mago per salvarlo dall'essere e venire inspiegabilmente ferito dal semplice tocco di quello spettro. Seguendo le parole del mago, Riverwind menò un fendente verso quel cerchietto con l'intento di romperlo o di strapparlo via dalla tetra figura fluttuante cercando di evitare di venir toccato da lui.

Raistlin Impreco quando Tass si getta avventamente contro di me, per giunta facendomi sbattere a terra. A malincuore ringhio quasi agli altri Il cerchietto è ciò che lo tiene in vita.

Council Day 5 Twilight Home 351 A.C. - Mattina? [Pioggia? - Autunno] - Lunitari 1° giorno gibboso crescente @Raistlin Tass si scagliò contro Raist buttandolo a terra a lato della creatura che allungò la mano e prese alle spalle il kender con il suo tocco incorporeo e gli aprì un taglio Al tocco Tass si sentì svuotato Goldmoon fece per alzare il simbolo sacro per dominare la creatura ma qualcosa le impediva di agire contro di essa. @all

Raistlin Che permaloso e io che cercavo solo di ammirare questo interessante lavoro @AndreaP

Goldmoon La sacerdotessa osservò con disperazione il non morto attaccare Raistlin. Richiamò i suoi poteri sacri, e cercò di bandirlo come aveva fatto con gli altri non morti. Non credeva ci sarebbe riuscita, stavolta. Ma doveva tentare!

Tasslehoff Burfoot Tass agi' prima del suo cervello e in men che non si dica si era tuffato contro Raistlin, placcandolo e spingendo ambedue lontani dal non morto. Se si fosse fermato a pensare forse avrebbe capito che entrare in un cerchio magico e passare davanti ad un mago arrabbiato non era certo un'idea brillante, ma del resto "agire prima di pensare" era un po' il motto di famiglia.

Council Day 5 Twilight Home 351 A.C. - Mattina? [Pioggia? - Autunno] - Lunitari 1° giorno gibboso crescente Raistlin allungò la mano per per prendere il cerchio quando improvvisamente la creatura tornò in vita riformando dalla polvere il suo corpo Questa volta però non pareva ignorare i compagni ma si gettò sul giovane mago @all

Tass Il kender si bloccò sul posto ma non poté fare a meno di allungare il collo per cercare di vedere cosa aveva trovato Raistlin. Il settimo senso dei Burrfoot gli diceva che era un qualcosa di molto, molto importante, e lui doveva assolutamente vederlo.

Tanis Raistlin aveva trovato quacosa di interessante e il mezzelfo lasciò al mago il tempo di trarne tutti i benefici possibili. Lasciatelo fare. nessuno di loro aveva più esperienza o competenza di Raistlin in fatti di magia.

Tika Rimango ferma davanti alla porta, ho la mano già pronta ad aprirla ma sento le parole di Flint e mi blocco. Mi giro solo dicendo "qui la porta non è chiusa a chiave...penso, sicuro non ci sono trappole! Possiamo lasciare alla sua polvere questo spettro!" desidero andarmene il prima possibile da questa stanza.

Flint Non veder accadere nulla mentre Raistlin entra nelle rune sorprese il nano. "Forse dipende dal fatto che reggiamo gli anelli. Tass, non muoverti. Nessuno si muova. Raist... ti prego, non fare niente che ci farà pentire di averti conosciuto." Ma le sue sensazioni non erano affatto buone.