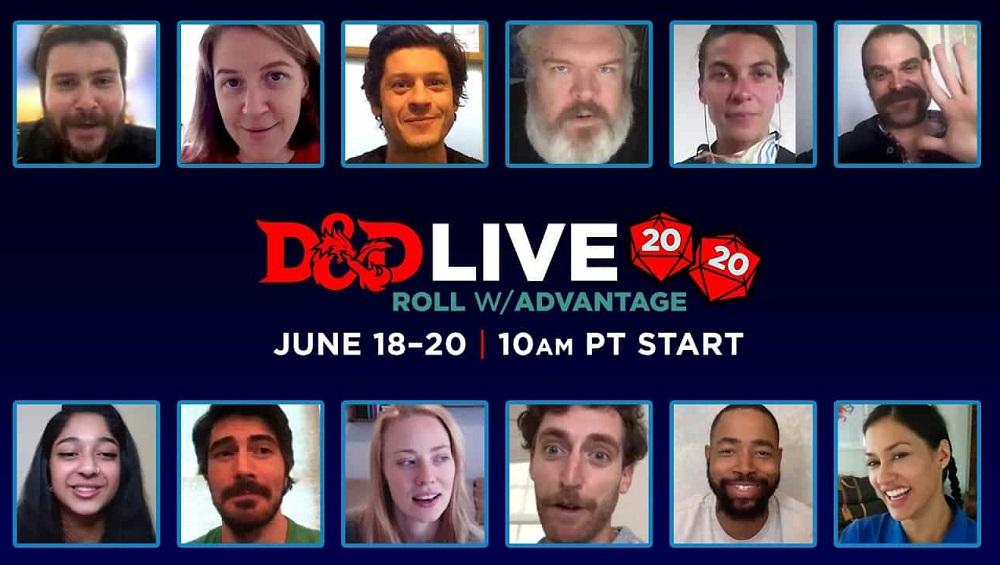 dnd 5e
Il cast di Game of Thrones si riunisce per giocare a D&D 5a Edizione
Il cast della pluriacclamata serie TV Game of Thrones si ricongiungerà per giocare in streaming a Dungeons & Dragons 5a Edizione.
Articolo di Kelly Knox del 12 Giugno 2020
Il cast di Game of Thrones si riunirà per un ultimo racconto! Ma non per Le Cronache del Ghiaccio e del Fuoco. Sarà invece per una partita a Dungeons & Dragons diversa da qualsiasi altra, guidata da Kate Welch, game designer per Wizards of the Coast, nel ruolo di Dungeon Master. Il 20 giugno alle 12:00 PM fuso orario del Pacifico (le 3 del mattino in Italia), alcuni degli  attori di Game of Thrones che hanno interpretato personaggi che avete amato (e amato odiare) si uniranno al D&D Live 2020: Roll w / Advantage.
Il Cast of Thrones di D&D includerà Daniel Portman (Podrick Payne), Gemma Whelan (Yara Greyjoy), Iwan Rheon (Ramsay Bolton), Kristian Nairn (Hodor) e Natalia Tena (Osha). Il gruppo di eroi incontrerà una creatura insolita che li indirizzerà verso uno strano compito. Sembrerebbe una cosa abbastanza semplice, ma in un regno leggendario per il suo pericolo non tutto è come sembra.
D&D Live supporterà il Red Nose Day e presenterà diversi volti noti della cultura pop e della community di Dungeons & Dragons. L'evento di beneficenza verrà trasmesso in streaming su YouTube e Twitch.tv/dnd a partire da giovedì 18 Giugno.
Cita

"I fan di D&D scopriranno tutto sulla nuova campagna e sui nuovi prodotti ad essa correlati; inoltre, donando una piccola somma al Red Nose Day (di almeno $ 10), i fan potranno registrarsi tramite il portale degli eventi live di D&D". 

Spiega il sito web dell'evento.

"I fan saranno anche in grado di scegliere il personaggio più adatto ad aiutare la regione attraverso Reality RP, un mix di narrazione fantasy, dialogo con la community e reality TV!"
Connettetevi per una buona causa, o anche solo per guardare storto Ramsay Bolton un'ultima volta (Scusaci, Iwan Rheon). Potrete guardare Partite Live, Annunci e Panels che saranno tenuti durante il weekend dal 18 al 20 Giugno 2020.
---
---
News type: Generica
---