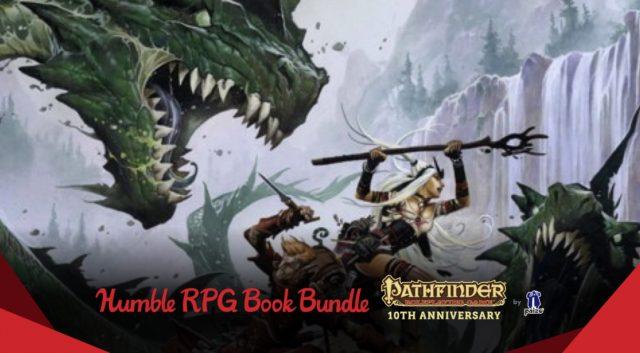 pathfinder
Di Stelle in Frantumi, 10 anni di gioco e beneficenza: auguri Pathfinder!
684 views
Dopo avervi parlato giusto qualche giorno fa delle piattaforma Humble Bundle e delle sue iniziative eccovi le ultime novità in merito ad un nuovo bundle preparato per il decennale di Pathfinder.
Ad Agosto di quest'anno la prima edizione di Pathfinder celebrerà il suo decimo anniversario, passando inoltre il testimone alla seconda edizione. Sebbene Agosto sia ancora lontano, la Paizo ha già cominciato a mobilitarsi per festeggiare i dieci anni dal rilascio del gioco. Se da un lato sul suo sito web la compagnia ha messo in sconto alcuni dei volumi fisici legati ad alcune linee di prodotti periodici (Adventure Path, Campaign Setting, Player Companion, Pathfinder's Module, Pathfinder Tales, materiale per l'Adventure Card Game oltre che alcuni poster promozionali), dall'altro ha pensato anche che potesse essere una buona occasione per supportare una giusta causa. Infatti la Paizo, in collaborazione con la piattaforma Humble Bundle, ha rilasciato un bundle il cui ricavato verrà in parte offerto in beneficenza. La Paizo non è nuova a questo genere di iniziative poiché già in passato aveva collaborato con Humble Bundle per il rilascio di alcuni bundle di beneficenza.
Il bundle rilasciato è molto ricco e contiene le versioni in formato PDF di gran parte dei manuali rilasciati nella linea di prodotti Core, alcuni Player Companion e Campaign Setting, delle avventure, l'intero Adventure Path Shattered Star (in Italia conosciuto anche come Stella Infranta nella traduzione di Giochi Uniti) e anche il manuale base di Starfinder. Esso è suddiviso in quattro tier, di cui di seguito vi elenchiamo i contenuti e la cifra da pagare per accedere agli stessi. Si ricorda che il materiale del bundle è in lingua inglese.
Primo Tier
Cifra di sblocco: 1$
Contenuti presenti:
Manuali core: Core Rulebook; GameMastery Guide; Bestiary.
Avventure: We Be Goblins!; We Be Goblins Too!; We Be Goblins Free!; We B4 Goblins!.
Altri materiali legati al GDR: Pathfinder Beginner Box; Player Character Folio; Shattered Star Player's Guide.
Extra: Periodo di prova di 1 mese per Pathfinder Online.
Secondo Tier
Cifra di sblocco: 8$
Contenuti presenti:
Manuali core: Advanced Player's Guide; Advanced Class Guide; NPC Codex; Monster Codex; Villain Codex.
Campaign Setting: The Inner Sea World Guide.
Player Companion: Goblins of Golarion.
Shattered Star: #1 Shards of Sin; #2 Curse of the Lady's Light.
Terzo Tier
Cifra di sblocco: 15$
Contenuti presenti:
Manuali core: Ultimate Magic; Ultimate Combat; Ultimate Equipment; Ultimate Campaign; Ultimate Intrigue; Bestiary 2; Bestiary 3; Advanced Race Guide.
Campaign Setting: Inner Sea Gods, Magnimar, City of Monuments
Player Compaion: Varisia, Birthplace of Legends.
Shattered Star: #3 The Asylum Stone; #4 Beyond the Doomsday Door.
Quarto Tier
Cifra di sblocco: 18$
Contenuti presenti:
Manuali core: Strategy Guide; Bestiary 4; Bestiary 5; Occult Adventures; Pathfinder Unchained; Mythic Adventure.
Campaign setting: Inner Sea Races.
Player Companion: Dwarves of Golarion; Elves of Golarion; Gnomes of Golarion; Halflings of Golarion; Humans of Golarion; Kobolds of Golarion; Orcs of Golarion.
Shattered Star: #5 Into the Nightmare Rift; #6 The Dead Heart of Xin; Shattered Star Poster Map Folio.
Starfinder: Starfinder Core Rulebook.
Per chi non la conoscesse, Humble Bundle è una piattaforma che settimanalmente rilascia dei bundle di beneficenza caratterizzati da uno specifico tema, generalmente disponibili per l'acquisto per un periodo di due settimane dal momento del rilascio. Sebbene punti principalmente su bundle a carattere videoludico, da qualche anno ha cominciato a rilasciare anche bundle di carattere letterario e, di tanto in tanto, è capitato che questi bundle letterari fossero a tema GDR. Ogni bundle è suddiviso in tier a valore crescente. Maggiore è la cifra donata, maggiore è la quantità di materiale ottenuto. Inoltre donando una cifra che permette l'accesso ad un determinato tier, si ottengono anche tutti i contenuti dei tier precedenti. Quando fa la donazione, che può essere eseguita tramite carta di credito, PayPal, AmazonPayment o Alipay, il donatore può scegliere come ripartire la cifra devoluta tra ente di beneficenza, Humble Bundle ed editore che ha offerto i contenuti.
---
---
News type: Generica
---