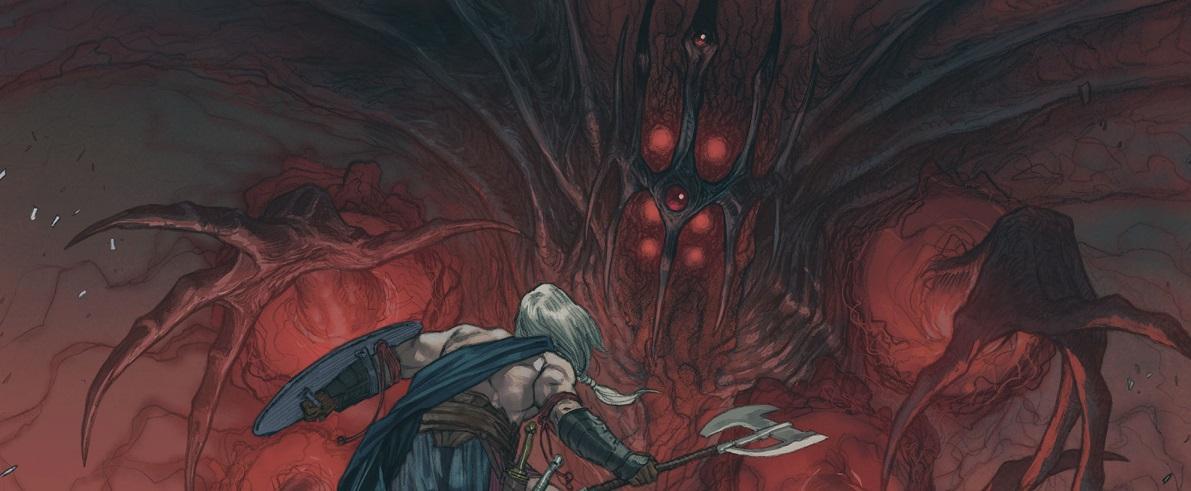 dnd 5e
La DC Comics pubblicherà un supplemento per D&D 5E
In questi giorni é stato annunciato un prodotto per D&D 5E legato alla linea The Last God della DC Comics.
The Last God è il nuovissimo fumetto fantasy della DC Comics, pubblicato in USA sotto la divisione Black Label, etichetta che ha sostituito la Vertigo per le pubblicazioni con contenuti maturi. Scritto da Phillip Kennedy Johnson (Adventure time), illustrato dal nostrano Riccardo Federici (Aquaman) e con le copertine di Kai Carpenter (Books of Magic), questo fumetto ci parla di due generazioni di eroi, una che ha condannato il mondo, e l'altra che dovrà salvarlo.

Eccone la sinossi:
Trenta anni fa, un gruppo di eroi viaggiò oltre i confini della creazione e uccise l'ultimo dio vivente, salvando il regno di Cain Anuun da un apocalittico esercito di non morti. I leggendari compagni divennero i sovrani del loro mondo e inaugurarono una nuova era di pace e prosperità. Ma non è durata a lungo.

Ora le disgustose legioni dell'Ultimo Dio marciano ancora una volta su Cain Anuun, devastando tutto e rivelando che gli ormai invecchiati compagni potrebbero non essere i grandi eroi che sostengono. Con il mondo che brucia intorno a loro, un nuovo gruppo di improbabili campioni dovrà radunarsi e realizzare ciò che nessun altro ha mai fatto: uccidere l'Ultimo Dio, una volta per tutte.
La DC Comics ha annunciato che rilascerà un supplemento per la 5a Edizione di Dungeons & Dragons dedicato a The Last God chiamato The Last God: Tales from the Book of Ages

The Last God: Tales from the Book of Ages sarà un supplemento di 40 pagine che verrà pubblicato in USA ad Aprile e renderà nel dettaglio la ricca storia di popoli, luoghi, scuole di magia e mostri di Cain Anuun, l'ambientazione di The Last God. Il libro conterrà razze giocabili, sottoclassi, oggetti magici e mostri realizzati da Dan Telfer, DM di Nerd Poker, assieme alle mappe realizzate dal cartografo Jared Blando.

Per una sua eventuale localizzazione in italiano dovremo aspettare la decisione di Panini, il nuovo editore della DC Comics in Italia.
---
Edited by Alonewolf87
---
News type: Prossima Uscita
---
2

1