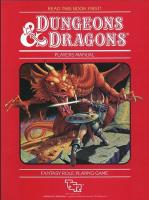 About This Club
Gilda nata per riscoprire il gusto del gioco "vecchia scuola"
What's new in this club

Grazie per la partita. Ti auguro di riuscire a sistemare le cose IRL.

Mi dispiace, ma devo mettere in pausa a tempo indefinito anche questo Play by Forum Odio anche io lasciare le cose a metà ma non posso fare diversamente, purtroppo E mi rendo conto che è colpa mia, della mia mancanza di tempo a fare da Master, se vi è passata la voglia di giocare Scusate e grazie per aver partecipato

È il sistema BFRPG o semplicemente la voglia che manca? Perché se volete, possiamo sempre ancora giocare con Dark Dungeons o B/X. Alla fine le regole sono molto simili. Ho solo proposto BFRPG dato che le regole sono disponibili in italiano e che sono gratuite.

Sono d'accordo con te sulla storia dei retrocloni, Matto: se si vuole giocare un OSR l'unico modo per divertirsi è velocizzare le situazioni, "automatizzare" le azioni dei PG dove si può (descrivendole solamente in modo narrativo) e applicando in altre situazioni modalità innovative che però minno l'originalità del concetto di OSR, me ne rendo conto. Ma d'altronde vige sempre la regola aurea del "There is no wrong way to play" pur di divertirsi. Diversa cosa è giocare il Fantasy cin approcci completamente nuovi quali Dungeonworld o Fate, e, raga, è quello che faccio io in real ma ci vuole il mood giusto e un gruppo affiatato e pronto a improvvisare.

Grazie @Maestro Menatorio ma passo.

Voglio finire questa avventura perchè odio lasciare a mezzo un pbf, ma devo ammettere che non mi stò divertendo più tanto... probabilmente colpa soprattutto della lentezza e/o della mancanza di indizi, ma anche il fatto che (devo ammetterlo) ho sopravvalutato i retrocloni (e i gdr da cui discendono). Quindi grazie ma passo.

È praticamente uguale a B/X però con qualche modificazione tale che razza e classe separate, CA ascendente, livelli fino a 20. In termini di esperienza di gioco è quasi uguale a B/X.

Io ci sono, Maestro, ma il regolamento di BF non lo conosco.

Come avevo proposto prima, semmai dalamar78 dovesse ritirarsi, posso sempre far giocare una partita di Basic Fantasy a chi lo vuole. Ho in mente di far giocare la campagna Morgansfort che sarebbe una sorta di omaggio a Keep on the Borderlands. Se non vi interessa, possiamo pure discutere di che genere di partita volete giocare e posso, magari creare un altro tipo di hexcrawl o persino un megadungeon. Butto solo un sasso nello stagno...

Aspettiamo che Dalamar risolva i problemi in real anche perchè è lui il master e deve decidere se chiudere o proseguire. Magari, Dalamar, snellisci il resto dell'avventura così la chiudiamo subito ma almeno finiamo di giocarla. Non so, sorvola le stanze vuote o, meglio, inizia a farci fare roba di default tipo il Ladro origlia per cercare rumori dietro le porte, se semaforo verde entra per primo seguito dagli altri; se entriamo in stanze con biblioteca o altro materiale "scientifico" di default cerchiamo indizi. Fai così dopo che ci descrivi le stanze senza aspettare che te lo scriviamo noi a meno che la situazione non richieda altrimenti.

Ragazzi, sono due settimane che siamo fermi... visto che, a quanto sembra dalla sua firma, @dalamar78 ha problemi a postare, abbiamo due possibilità: mettere in pausa a tempo indefinito, aspettando che i suoi problemi si risolvano. chiudere il pbf. Opinioni?

Egoril Castanor Il mago non è tanto caldo all'idea di lasciare queste bestiacce vive, ma decide comunque di seguire i suoi compagni. "Andiamo." aggiunge Egoril, mentre segue Rurik e Friedriech che si dirigono verso la grande stanza con il soffitto crollato [52]. Mentre prosegue, si gira un'ultima volta verso i goblin. Consideratevi fortunati che vi lasciassimo vivere.

Rurik Per quanto sia tentato di tagliare la gola a quei quattro sgorbi, sono talmente pietosi che mi trattengo. "Si, ottima idea Friedrich!"

Friedrich Ritter "Qui stiamo perdendo tempo" disse con ira il guerriero per poi colpire con un forte pugno sul volto il goblin "Andiamocene" aggiunse rivolto ai compagni "dico di tornare nella sala grande e provare dalla doppia porta a nord @all

Master I Goblin cercano di farsi ancora più piccoli Noi no conosce questo posto, solo strada per arrivare qui

Quindi i goblin, che fanno?

Purtroppo capita coi dungeoncrawling via PbF: bisogna trovare un modo di velocizzare, dove possibile.

Confermo, scale che andavano su ma che adesso sono inagibili causa frana Sinceramente non ricordo se vi avevo fatto trovare la porta segreta nella stanza 80, comunque questo non cambia nulla, le scale restano non utilizzabili in nessun modo

Si, avevo capito. Pensavo che l'entrata segreta sia stata rivelata. Pensavo che usare l'altro ingresso ci avrebbe permesso di usarle. È forse un po' meta, pero ho visto sulla mappa che c'è un a S sulla parete nord, proprio quella che da sulle scale. Se non è scoperta automaticamente, va pure bene, possiamo pure tirare i dadi. @dalamar78potresti darci precisioni?

Ehm... scusa, quale parte di "NON AGIBILI" non ho spiegato abbastanza bene? 😅

Io avevo capito per la zona con i detriti come tu dici Mentre non capisco la porta segreta...

Grazie @MattoMatteo Sembra che sia fuggita questa informazione. Io direi, una volta che sono stati sistemati i goblin, di andare su per le scale.

Se non ricordo male la descrizione del master, le scale vanno su, e non sono agibili per via delle macerie.