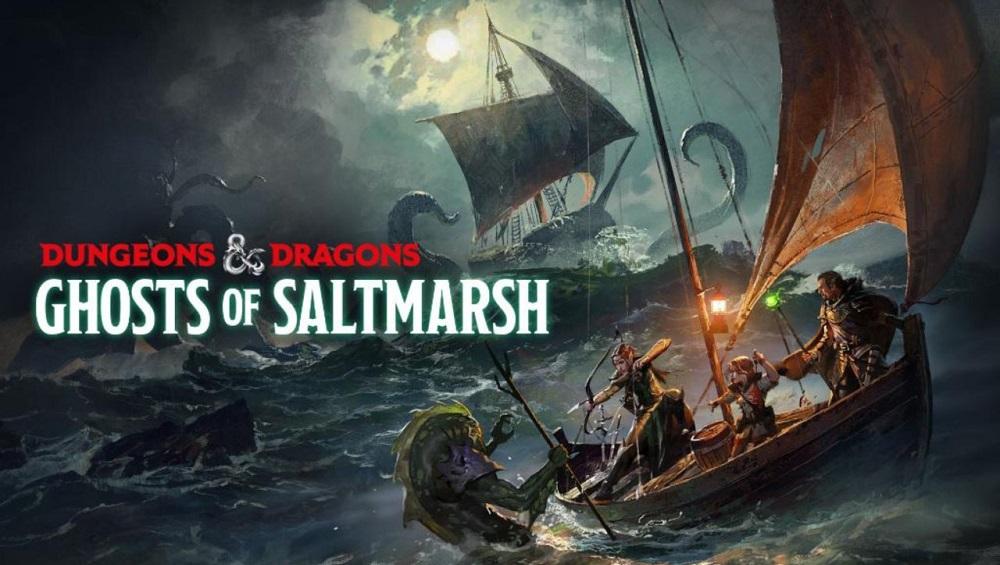 dnd 5e
E' uscito Ghosts of Saltmarsh!
Ghosts of Saltmarsh è finalmente disponibile in tutti i negozi.
A partire da ieri, 21 Maggio 2019, è disponibile in tutti i negozi Ghosts of Saltmarsh, il nuovo supplemento in inglese per la 5e dedicato alle avventure di tipo marinaresco. All'interno del manuale è possibile trovare una collezione di sette avventure che consentiranno ai personaggi di salire dal 1° al 12° livello e che saranno ambientate a Saltmarsh, una città portuale appartenente al celebre mondo di Greyhawk (il manuale, in ogni caso, gestisce questa cittadina in modo da permettervi di trasportarla in qualunque ambientazione vogliate). Sarà possibile giocare a tutte le avventure una di fila all'altra, oppure giocarle separatamente, magari in combinazione con avventure differenti. Ghost of Saltmarsh può tornare utile anche a coloro che sono semplicemente alla ricerca di regole per le campagne marinaresche: all'interno del manuale, infatti, sono presenti regole sulla creazione e sulla gestione delle navi, così come regole sulla navigazione e sull'esplorazione marittima, nuovi mostri e altro ancora. Il manuale è disponibile al prezzo di 49,95 dollari.
Per maggiori informazioni sul supplemento potete leggere i due articoli che abbiamo scritto all'epoca del suo annuncio:
❚ Ghosts of Saltmarsh è il prossimo supplemento per D&D 5e
❚ Aggiornamenti su Ghosts of Saltmarsh
Qui di seguito, invece, potete trovare le anteprime rilasciate in questi mesi:
❚ Il Sommario, alcune regole e altro

---
News type: Uscita
---