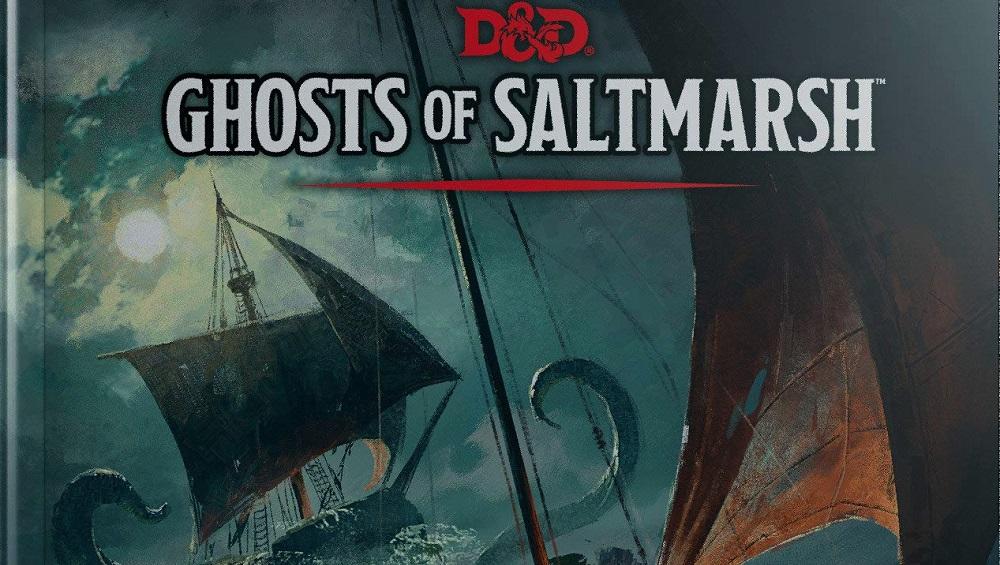 dnd 5e
Ghosts of Saltmarsh è il prossimo manuale di D&D 5e
Grazie ad Amazon scopriamo titolo e contenuto del nuovo supplemento in arrivo per D&D 5e a Maggio, dedicato al tema nautico.
Già a partire da Gennaio, la WotC aveva iniziato a far trapelare indizi sul contenuto del manuale per D&D 5e previsto per questa primavera. Grazie ad Amazon, ora abbiamo finalmente la possibilità di scoprirne il titolo, il contenuto e la data di uscita.
Si tratta di Ghosts of Saltmarsh (Fantasmi di Saltmarsh) e si tratterà di una collezione di avventure marittime che consentirà ai personaggi di salire dal 1° al 12° livello. In aggiunta, il supplemento conterrà nuove regole per la creazione e la gestione delle navi, regole per l'esplorazione marittima, nuovi mostri e altro ancora. Ghost of Saltmarsh è previsto per il 21 Maggio 2019. Ancora non sono disponibili informazioni sul prezzo e sulla traduzione in lingua italiana.
Sembra, dunque, che il supplemento trarrà ispirazione dalla trilogia di avventure classiche incentrate su Saltmarsh, una città portuale originariamente appartenente a Greyhawk (non è, tuttavia, possibile dire se il nuovo manuale sarà o meno direttamente collegato a questa ambientazione, in quanto non ci sono ancora informazioni in merito; è più probabile che si tratti al momento di un semplice omaggio, con avventure facilmente adattabili a qualunque ambientazione).
Ecco qui di seguito la descrizione del manuale disponibile su Amazon US:
Dungeons & Dragons: Ghosts of Saltmarsh
Esplorate le onde al di sopra e le profondità al di sotto in questa avventura acquatica per il gioco di ruolo più grande al mondo.
"Gli accoliti di D&D sono ovunque... Tecnici dalla Silicon Valley a Brooklyn giocano a campagne di lunga durata, mentre gli showrunner e i romanzieri dietro al 'Trono di Spade' son tutti stati dei Dungeon Master." —Neima Jahromi, The New Yorker
Ghost of Saltmarsh porta alcune classiche avventure all'interno della 5a Edizione di D&D. Questo manuale d'avventura combina alcune delle più popolari avventure classiche della 1a Edizione di Dungeons & Dragons, inclusa la classica serie "U", con alcune delle migliori avventure nautiche appartenenti alla storia di Dungeon Magazine: Sinister Secret of Saltmarsh, Danger at Dunwater, Salvage Operation, Isle of the Abbey, The Final Enemy, Tammeraut's Fate e The Styes.
Ghost of Saltmarsh include una varietà di avventure marittime, bastanti per consentire ai personaggi di salire dal 1° al 12° livello.
 
Questo supplemento introduce la città portuale di Saltmarsh, il punto di partenza perfetto per una campagna nautica.
 
Ogni avventura può essere giocata singolarmente, inserita nella vostra campagna in corso o combinata assieme alle altre in una singola epica campagna nautica.
 
I Dungeon Master troveranno regole per le navi, regole per il viaggio marittimo, piani di coperta per vari tipi di imbarcazioni (la mappa della coperta delle navi, NdTraduttore), un appendice con le regole per nuovi e classici mostri, e molto altro ancora.
 
Dungeons & Dragons è il più grande gioco di ruolo al mondo. Creato nel 1974, D&D ha trasformato la cultura del gioco fondendo il fantasy tradizionale con le miniature e il gioco di guerra.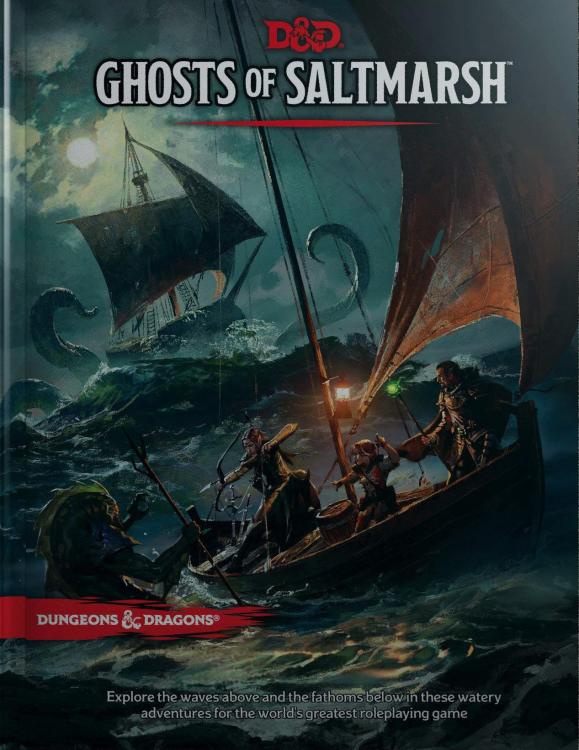 ---
---
News type: Prossima Uscita
---