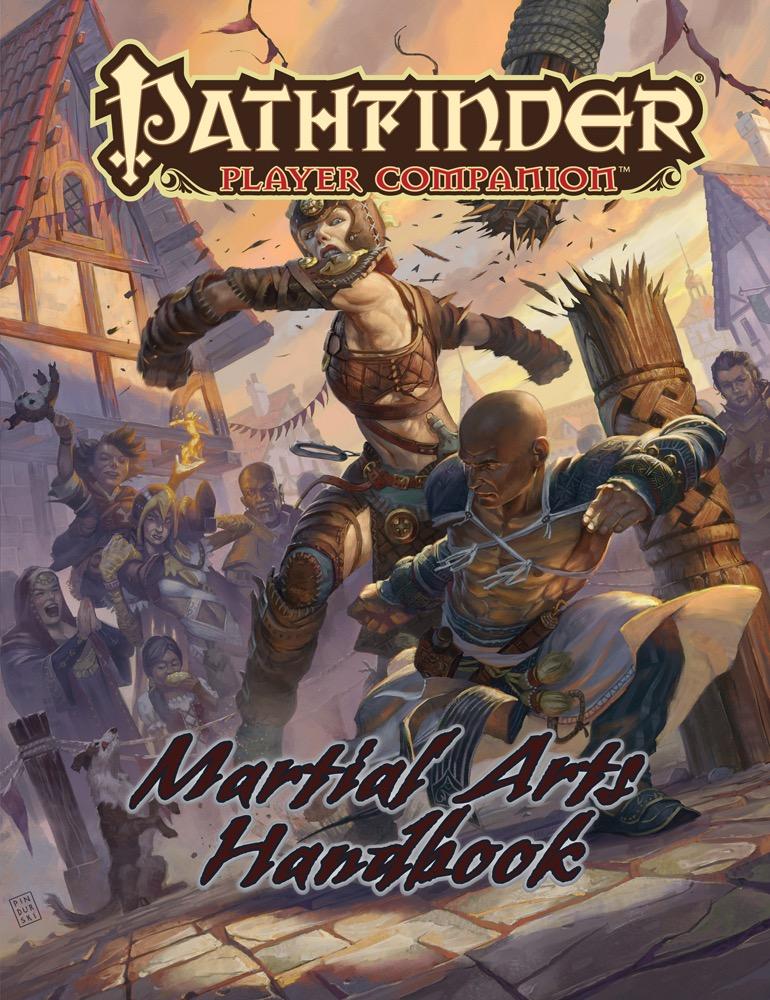 pathfinder
Le Tavolette Non Restituiscono Il Colpo!
579 views
Eccovi un'anteprima sul nuovo manuale in uscita per la linea Player's Companion di Pathfinder, il Martial Arts Handbook, un tomo per tutte le vostre necessità marziali.
Posso prendermi solamente un momento per dirvi quanto sono entusiasta di vedere che finalmente il Pathfinder Player Companion: Martial Arts Handbook sta per raggiungere gli scaffali in forma fisica e per diventare disponibile in forma di download digitale come PDF su paizo.com? Sono decisamente entusiasta! Questo è il manuale che ho atteso di vedere per anni e finalmente è qui!

Illustrazione di Alyssa McCarthy
Martial Arts Handbook fornisce nuove opzioni per tutti i personaggi che si focalizzano sulle forme marziali del combattimento. Sebbene il vostro primo pensiero possa essere rivolto a monaci e attaccabrighe, qualunque tipo di personaggio che utilizzi la forza, l'agilità oppure l'astuzia per prevalere sul campo di battaglia troverà opzioni utili in questo manuale. Esso presenta un certo numero di opzioni ispirate sia dagli stili di combattimento del mondo reale, che da quelli precedentemente istituiti nella storia di Golarion. Ciò include il danzatore da battaglia (battle dancer, traduzione non ufficiale), ispirato dalla capoeira, e i tutori dell'ordine Chu Ye (Chu Ye enforcer, traduzione non ufficiale), vigilianti che indossano temibili maschere oni per opprimere gli umani di Chu Ye.

Illustrazione di Michele Giorgi
Oltre a fornire opzioni marziali per molte classi, incluse alcune decisamente atipiche come il medium dei maestri (medium of the master, traduzione non ufficiale), abbiamo anche espanso le tecniche esistenti e già disponibili ai personaggi. Ciò significa che ci sono molti nuovi talenti di stile, trucchi per le armi e talenti per concedervi più opzioni per le vostre manovre di combattimento. In questo manuale ci sono anche delle nuove tecniche! Tre le mie preferite ci sono le nuove tecniche combinate (combination techniques, traduzione non ufficiale) che vi conferiscono dei bonus per aver attaccato con successo lo stesso bersaglio con le stesse durante un round. Gettate nella mischia alcune mosse distintive e del nuovo equipaggiamento, e questo manuale diventerà un qualcosa che non potrete perdere!
Se siete in cerca di una possibilità di migliorare lo stile di combattimento del vostro personaggio oppure volete semplicemente un nuovo modo per colpire un cattivone, assicuratevi prendere il Martial Arts Handbook!
Luis Loza,
Sviluppatore
---
---
Article type: Approfondimenti
---