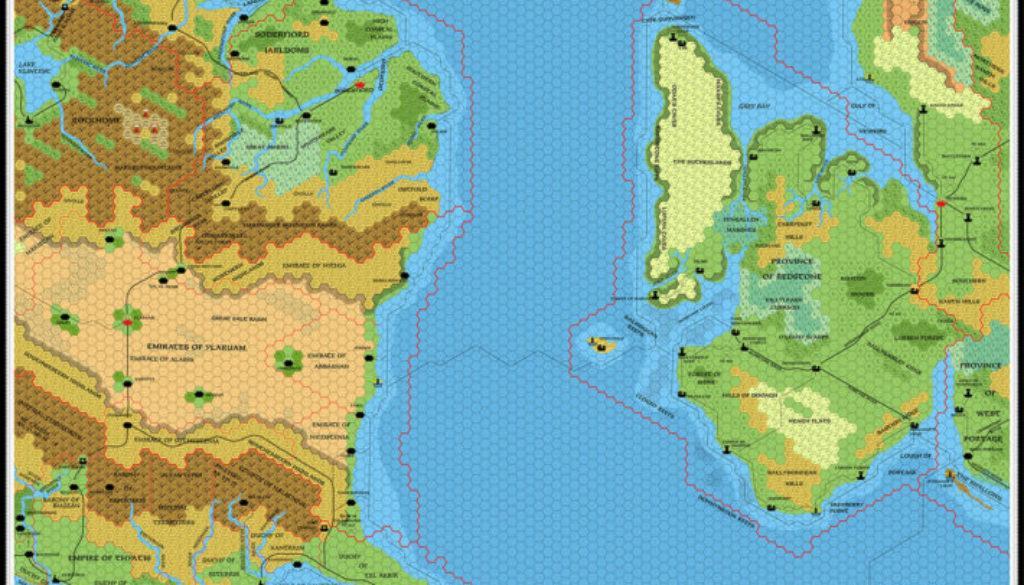 Gli avventurieri che viaggiano nei mondi di Krynn e Mystara avranno meno possibilità di perdersi grazie a questi due set di mappe in regalo.
Personalmente ritengo che le mappe siano una delle parti più entusiasmanti di un mondo fantasy: è incredibile vedere la ricchezza di dettagli che gli autori delle varie ambientazioni hanno inserito dentro di esse. Tutte le città e i paesi da visitare, le montagne da scalare, le foreste da esplorare, i fiumi e i mari da navigare, i luoghi degni di nota, i luoghi di potere, e i luoghi pieni di pericoli da cui la gente dovrebbe tenersi alla larga, ma che irrimediabilmente attirano avventurieri di ogni genere.
La Wizards of the Coast ha messo in regalo due set di mappe su DrivethruRPG, tratte da ambientazioni che hanno segnato la storia di D&D: Dragonlance e Mystara. Entrambe non sono altro che le scannerizzazioni di The Eastern Countries Trail Map e The World of Krynn Trail Map due set di mappe pieghevoli create per Dungeons & Dragons BECMI e Advanced Dungeons & Dragons. Nonostante la scannerizzazione non riesca a rendere giustizia alle dimensioni complete delle mappe e, anzi, le spezzetti in molte parti, sono comunque davvero utili per DM e giocatori che non possiedono le copie fisiche e sono facilmente consultabili anche su smartphone e tablet o per essere mostrare durante una sessione online tramite Virtual Tabletop. 
Diamo pure un'occhiata a queste due fantastiche mappe, per scaricarle da DriveThruRPG cliccate sui titoli dei paragrafi.
In questo set troviamo, divisa su varie pagine, una mappa dell'intero continente di Krynn, da Sancrist fino alle Isole dei Minotauri Mithas e Khotas, passando ovviamente per terre famose come Silvanesti e Solamnia. La mappa geografica è colorata e ricca di dettagli, con le città bene in vista ed una legenda che spiega tutti i vari tipi di terreno, ma ciò che rende questo titolo davvero speciale sono le mappe di tutti i luoghi più famosi della saga. Sono disponibili, infatti, le mappe dettagliate di luoghi come Solace, la Tomba di Huma, Vingaard Keep, Neraka e la Torre dell'Alta Stregoneria di Wayreth.

Quello di Mystara, invece, è un set di mappe ad esagoni, che copre però solo la parte orientale del Mondo Conosciuto. Vi si trovano luoghi familiari agli avventurieri italiani, come gli Emirati di Yaluram e Casa di Roccia, ma altri purtroppo inediti nel nostro paese come Le Terre del Nord di Soderfjord, le Gilde di Minrothad e l'Impero di Thyatis. Ovviamente, come da buona tradizione degli Atlanti di Mystara, l'intera mappa è divisa in esagoni, per dare un tocco di Hexcrawl alle partite Old School. Dopo le varie porzioni della mappa sono presenti la legenda dei tipi di terreno e tante tabelle che donano profondità al mondo, come le università più importanti, una lista di tutti i vari regnanti e delle loro visioni politiche (stilata dai servizi segreti imperiali di Thyatis), i nomi delle monete di tutti i regni e i loro tassi di cambio, ed infine una lista delle principali malattie che infestano ogni regione.

---
News type: Generica
---
4

1