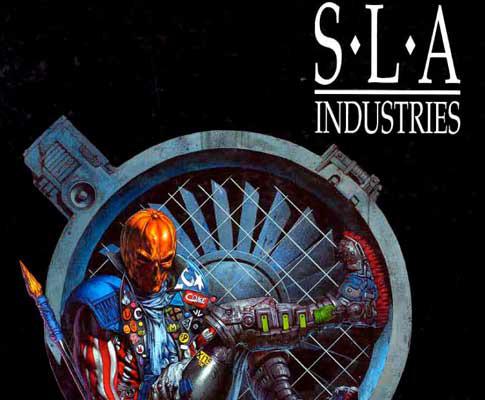 SLA Industries è un gioco di ruolo pubblicato per la prima volta nel 1993 da Nightfall Games, una casa editrice di Glasgow. L'anno successivo è stato acquistato dalla Wizard of the Coast, che però lo ha in seguito rivenduto a Cubicle 7 Entertainment.
Il gioco è una mescolanza di spunti tratti da cyberpunk e anime con aggiunta l'ossessione per i media sempre presenti. In questo modo si crea un futuro del tutto anti-utopico, nel quale la maggior parte dell'universo conosciuto è posseduto o indirettamente controllato da una mega-corporazione chiamata appunto "SLA Industries".

Le SLA Industries sono comandate da una creatura misterosa e immortale, "Mr. Slayer". Ha il suo quartier generale a Mort City, una città che si estende su una superficie maggiore di quella dell'Europa e dell'Asia messe insieme. Questa città quindi occupa la maggior parte del territorio del pianeta Mort, le cui risorse sono state sfruttate al punto da distruggerne in profondità l'ecologia. Oltre a Mort, le SLA Industries controllano un numero imprecisato di altri pianeti. L'ambientazione è volutamente tetra e non completamente definita.
I giocatori sono alle dipendenze delle SLA Industries e lavoranto come Operativi, prendendo in carico tutti quei compiti più o meno sgradevoli e pericolosi che vengono assegnati loro; esempi sono acciuffare serial killer, cacciare mostri nelle fogne, sedare rivolte e ridurre al silenzio dei dissidenti.
Come ogni buon cyberpunk, l'aspetto e la presentazione sono enfatizzati nel gioco tanto quanto le abilità in combattimento: nel gioco conta molto anche apparire bene in televisione ed esiste la possibilità di giocare una celebrità televisiva, di solito chiamati Contract Killers.

Le razze giocabili, oltre gli umani, sono i "Frother", ovvero umani mutati a causa del grande uso di droghe, i "Wraith Raiders" stealth, i forti e violenti "Shaktar" e due razze pesudo-magiche, gli Ebon, sensitivi e carsimatici, e i Brain Waster, violenti e crudeli. Ci sono infine gli Stormers una razza guerriera creata biogeneticamente dalle SLA Industries per le loro guerre senza fine.

L'ambientazione è piuttosto suggestiva ed in effetti non è un semplice ammazza e spacca, ma si presta a campagne politiche anche di un certo spessore. Il set di regole risente un po' del passare del tempo ed è piuttosto macchinoso in alcuni punti.

Oltre la manuale base sono usciti alcuni supplementi a SLA Industries:
• SLA Industries Main Rulebook (ISBN 1 899749 23 3)
• Karma Sourcebook (ISBN 1 880992 56 6)
• GM Screen
• Mort Sourcebook (ISBN 0 9522176 6 X)
• The Key of Delhyread Scenario (ISBN 978 1 8997492 4 1)
• The Contract Directory Sourcebook (ISBN 978 1 8997492 9 2)
• Cannibal Sector One Sourcebook (ISBN 978 0 9555423 0 5)
• Hunter Sheets Issue 1 Supplement (ISBN 978 0 9555423 1 2)

Il manuale base può essere scaricato gratuitamente dal sito rpg.drivethrustuff.com, dove si trova anche dell'altro materiale interessante. Inoltre, sul sito di Nightfall Games è possibile trovare delle regole aggiuntive al manuale base. Esiste anche una community online con anche dei play by forum, su team8.co.uk.
---