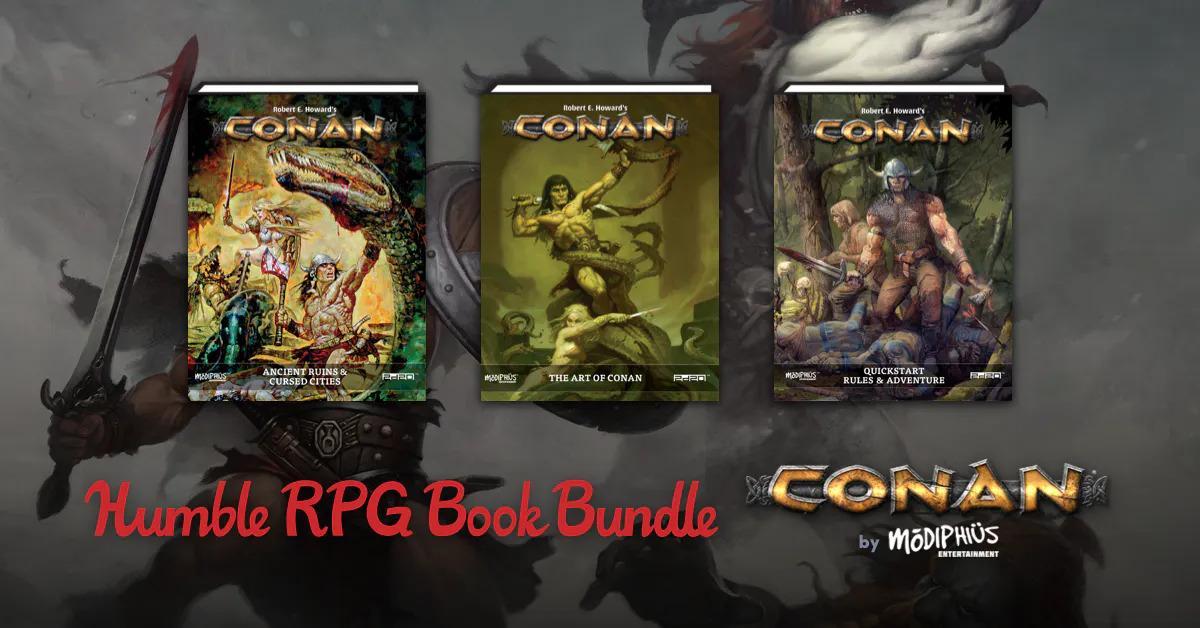 Humble Bundle e Modiphius ci portano nell'Era Hyboriana di Conan con un'offerta incredibile.
Humble Bundle ci offre una collezione di tutto rispetto dell'ultima incarnazione, targata Modiphius, del gioco di ruolo di Conan. Le regole si basano sul sistema 2d20 che la Modiphius usa per tutti i suoi giochi. Il 2d20 System è un sistema dinamico adatto per la narrazione, progettato per produrre scene cinematografiche e ricche di azione.

Il bundle si basa su tre livelli differenti di offerta.
Con 0,85€ si otterranno:
Free RPG Day/The Pit of Kutallu
Players Guide
Schede del Personaggio
Quickstart del Gioco
Un Codice per avere il 30% di sconto sulla versione stampata di Conan Core Book
Art of Conan
Con 6,82€ si otterranno inoltre:
Conan Core Book
Jeweled Thrones of the Earth
Conan The Barbarian
Gamemaster Screen + Gamesmaster Toolkit, versione PDF
Con 12,79€ si otterranno inoltre:
Un codice per avere Kull of Atlantis Sourcebook gratis da Modiphius.net
Conan The Adventurer
Conan The Brigand
Conan The King
Conan The Mercenary
Conan The Pirate
Conan The Scout
Conan The Wanderer
Ancient Ruins & Cursed Cities
Conan The Thief
Più si pagherà, più manuali ci si porterà a casa. Considerando il prezzo a pezzo intero di tutti i prodotti in offerta, il pacchetto totale vale ben 215 €!
Questo è davvero un bundle ricco di manuali e supplementi geografici per tutti coloro che vogliono scoprire o approfondire l'Era Hyboriana. Tutti i manuali sono in versione PDF e in lingua inglese e sono anche dotati di una comoda anteprima per poter essere sbirciati prima dell'acquisto.
L'offerta avrà termine il 01 Dicembre 2020. Inoltre acquistando questo bundle si sosterrà JDRF, un'organizzazione che si occupa della ricerca sul Diabete di Tipo 1.
---
---
News type: Generica
---