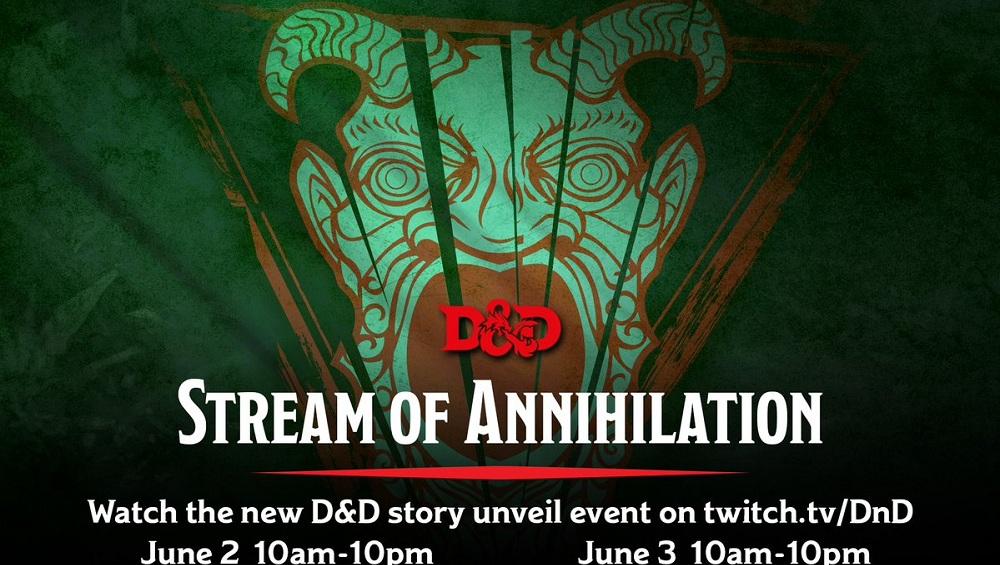 La nuova Storyline di D&D sarà annunciata il 2-3 Giugno
La WotC ha rivelato che ai primi di Giugno annuncerà la nuova Storyline di D&D 5e, in occasione dell'evento chiamato Stream of Annihilation.
Il 2 e il 3 di Giugno la Wizards of the Coast ha deciso di organizzare l'evento chiamato Stream of Annihilation, durante il quale annuncerà la prossima Storyline di D&D 5e in uscita a settembre (a quanto pare, dunque, si tratta effettivamente di Dust, come ipotizzato in questo articolo). Durante l'occasione saranno invitati numerosi streamers che, in questi mesi, hanno organizzato campagne di D&D via Twitch (ad esempio, gente proveniente da "Missclicks", "Maze Arcana", "Critical Role" e "Dice, Camera, Action!"). Lo stesso Stream of Annihilation sarà visualizzabile live su Twitch.
Qui di seguito l'annuncio originale:
http://dnd.wizards.com/streamofannihilation
Dungeon and Dragon ama gli straordinari video in streaming prodotti dai nostri fan. Questi giochi dal vivo generati dalla community evidenziano quello che c'è di fantastico in D&D - sedersi assieme con i propri amici per raccontare una grande storia.
Allo scopo di celebrare, abbiamo invitato un gruppo di streamer e di luminari a Seattle, Washington, in modo da stare assieme e tirare qualche dado il 2 e il 3 di Giugno! Questo evento di due giorni è chiamato Stream of Annihilation e sarà una due giorni piena di streaming che i fan di D&D non vorranno mancare. Abbiamo gente da Missclicks, Maze Arcana, Critical Role e Dice, Camera, Action! con Chris Perkins, per non menzionare gruppi di gioco internazionali come gli Yogscast's HighRollers (Regno Unito) e i Dragon Friends (Australia).
PROGRAMMAZIONE
A partire dalle 10:00 del mattino di entrambi il 2 e il 3 Giugno, le presentratrici Anna Prosser Robinson e Kelly Link parleranno con il D&D Team della Wizards of the Coast e impareranno tutto ciò che c'è da sapere sulla nostra nuova emozionante Storyline in arrivo a Settembre. A questo punto, ogni gruppo di streamer giocherà o mostrerà un esempio di cosa aspettarsi dalle campagne che giocheranno durante l'estate, le quali costituiranno un'anteprima della nuova storia di D&D. Ogni giorno ci saranno molteplici giochi dal vivo, interviste, rivelazioni del nuovo prodotto e ilarità improvvisata, a partire dalle 10:00 del mattino (orario del Pacifico) fino alle 10:00 di sera tutte le notti. Verrete introdotti al gruppo dei High Rollers mentre si addentrano in territori inesplorati con il loro DM Mark Hulmes, a un nuovo show dei Missclicks durante il quale s'investigheranno nuove voci di corridoio chiamate Risen, a due gruppi settimanali dei nostri amici Satine Phoenix e Ruty Rutenberg durante il Maze Arcana, a un nuovo gruppo di attori di Los Angeles chiamato Girls Guts Glory e molto di più!
Durante il Stream of Annihilation, rilasceremo dettagli sul programma allargato del nostro D&D Twitch, sugli accessori che i fan hanno chiesto a gran voce vengano rilasciati più tardi quest'anno, e sugli straordinari board game e prodotti creati dai nostri partner. Da Cryptic Studios sentirete parlare dei loro piani per Neverwinter, da Curse Media avrete notizie su D&D Beyond, così come avrete informazioni da WizKids, Gale Force 9, Fantasy Grounds, Roll20 e altri. In aggiunta,  come ogni Dungeon Master che si rispetti, abbiamo qualche altra emozionante sorpresa da tirar fuori dalla nostra borsa conservante!
ULTERIORI DETTAGLI
Dovrete guardare lo Stream of Annihilation per vederlo tutto dal vivo! Segui twitch.tv/DnD per ottenere tutti gli aggiornamenti, dunque segnate sul vostro calendario il Venerdì 2 Giugno e il Sabato 3 Giugno, in modo da assicurarvi di non perdere nulla!
Un programma completo, le biografie dei gruppi e di alcune altre celebrità che parteciperanno allo Stream of Annihilation saranno annunciati nelle prossime settimane. Parleremo dell'evento anche sul nostro account ufficiale di Twitter ( @Wizards_DnD ), così come intervisteremo alcuni dei gruppi questo mese su Dragon Talk, il podcast ufficiale di D&D.
---
News type: Cosa c'è di nuovo in DnD
---