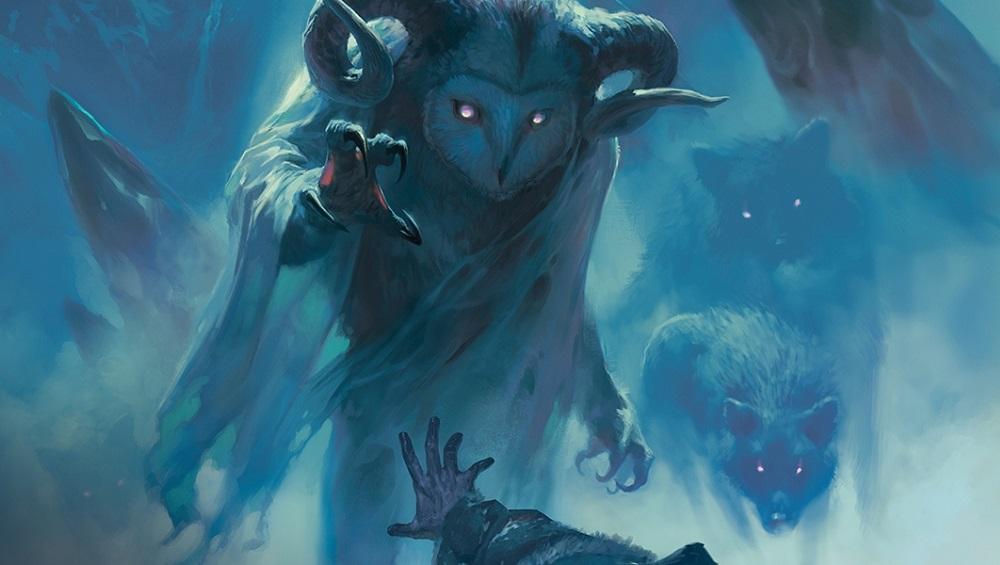 dnd 5e
Icewind Dale: Rime of the Frostmaiden - I dadi e una Edizione Platinum
Come da tradizione, la WotC rilascerà una set di dadi collegato alla nuova Storyline dell'anno. Allo stesso tempo, la Beadle & Grimm pubblicherà, in accordo con la Wizards, una versione Platinum dell'avventura contenente uno Schermo del DM, mappe e molto altro ancora.
Come vi avevamo scritto qualche giorno fa, la WotC ha di recente annunciato l'Avventura di D&D 5e collegata alla Storyline del 2020, ovvero Icewind Dale: Rime of the Frostmaiden. Oltre all'avventura, come al solito la Wizards renderà disponibile un nuovo Set di Dadi ad essa specificatamente collegato. Per coloro che, invece, sono disposti a spendere di più e avranno la prontezza di accaparrarsene una copia (le copie disponibili saranno solo 1000), la Beadle & Grimm rilascerà una Platinum Edition di Icewind Dale: Rise of the Frostmaiden al prezzo di 499 dollari, contenente oltre all'avventura mappe, uno Schermo del DM e altro ancora.
Qui di seguito potrete trovare la descrizione ufficiale dei due prodotti, oltre alle date di uscita e ai loro prezzi:
Set di Dadi di Icewind Dale: Rime of the Frostmaiden
DADI DI GHIACCIO, BABY!
Dadi di Ghiaccio Premium per il gioco di ruolo più grande al mondo
Pianificate una spedizione ad Icewind Dale? Preparatevi ad una fredda accoglienza armandovi con dadi che portano calore.
Il Set include:
Undici dadi (due d20, un d12, due d10, un d8, quattro d6, un d4)
Mappe pieghevoli di Icewind Dale e Ten-Towns adatte ai giocatori (26,67 cm x 40,05 cm)
Una scatola durevole e foderata in feltro utilizzabile come due vassoi per dadi
Venti carte a doppia faccia recanti descrizioni e illustrazioni dei personaggi e delle creature che potreste incontrare ad Icewind Dale
Prezzo: 29,99 dollari
Data di uscita: 15 Settembre 2020
Link alla pagina ufficiale del Prodotto: https://dnd.wizards.com/products/tabletop-games/rpg-products/icewind-dale-dice

Icewind Dale: Rime of the Frostmaiden Platinum Edition di Beadle & Grimm
RARO E MAGICO. BENVENUTI PRESSO BEADLE & GRIMM
Le Edizioni Speciali di D&D della Beadle & Grimm:
Prodotto da B&G in accordo con Wizards of the Coast, le loro edizioni Platino, Oro e Argento portano le avventure ufficiali di D&D a un altro livello. Ogni scatola contiene tutti gli elementi che un Dungeon Master ha bisogno per creare un'esperienza straordinaria per i suoi giocatori. A prescindere che voi siate giocatori di lunga data o neofiti entusiasti, le Edizioni Speciali sono un oggetto indispensabile per creare l'esperienza di gdr definitiva.
Ora, Beadle & Grimm è orgogliosa di presentare la sua terza Platinum Edition!
Questa Edizione Limitata (saranno vendute solo 1000 copie della Platinum Edition di Icewind Dale: Rime of the Frostmaiden) contiene:
Uno Schermo del DM realizzato appositamente per la Platinum Edition
Mappe da Battaglia a grandezza naturale
Carte d'Incontro esclusive
Schede informative riguardanti il mondo di gioco
Accessori indossabili di alta qualità
Illustrazioni originali
Prezzo: 499 dollari
Data di uscita: le spedizioni partiranno ad Ottobre 2020
Link alla pagina ufficiale della WotC: https://dnd.wizards.com/products/tabletop-games/rpg-products/icewind-dale-platinum
Link alla pagina ufficiale della Beadle & Grimm: https://www.beadleandgrimms.com/platinum/frostmaiden


---
---
News type: Prossima Uscita
---