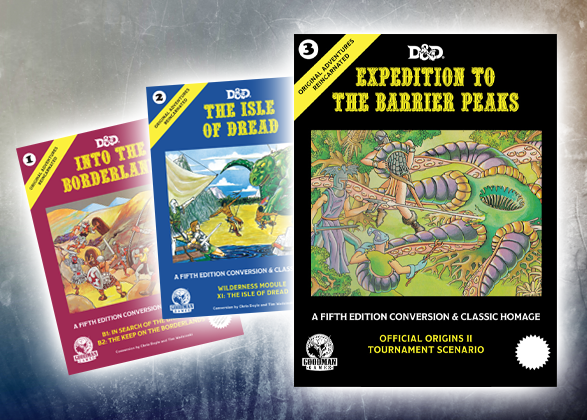 dnd 5e
Un Tuffo tra Presente e Passato con Spedizione ai Picchi Barriera
738 views
La Goodman Games continua nella sua opera di rivisitazione delle avventure classiche di D&D con Expedition to the Barrier Peaks.
Articolo di Morrus del 11 Marzo 2019
Dopo Nelle Terre di Confine (Into the Borderlands) e L'Isola del Terrore (The Isle of Dread), Goodman Games convertirà anche l'avventura fantascientifica Spedizione ai Picchi Barriera (Expedition to the Barrier Peaks) per D&D 5E.

Annunciata alla Gary Con questo fine settimana quest'avventura verrà rilasciata a settembre. Come le altre avventure della linea Original Adventures Reincarnated essa conterrà il modulo originale, gli allegati da consegnare ai giocatori e una versione del modulo aggiornata alla 5E.
L'avventura vanta la presenza di una nave spaziale che si è schiantata, di robot, pistole laser e uomini pianta.
Potete trovare maggiori informazioni direttamente sul sito web della Goodman Games consultabile qui.
---
Edited by Alonewolf87
---
Article type: Approfondimenti
---