dnd 5e
D&D 5e italiano: le prossime avventure in uscita
Vediamo all'incirca quando dovrebbero uscire le prossime avventure per D&D 5e in lingua italiana.
La Asmodee Italia ha di recente aggiornato la sua pagina dedicata alle Prossime Uscite, rivelando finalmente il periodo approssimativo in cui usciranno le prime Avventure di D&D 5e in lingua Italiana. Il Tesoro della Regina dei Draghi, infatti, è prevista per questo Luglio, mentre L'Ascesa di Tiamat dovrebbe uscire tra Settembre e Ottobre. A questo punto è anche utile ricordare che circa un mese fa la Asmodee aveva rivelato anche il periodo approssimativo di uscita delle Avventure su Waterdeep recentemente annunciate dalla Wizards of The Coast.
Naturalmente le date fornite dalla Asmodee Italia sono puramente indicative e potrebbero variare in caso di contrattempi. Appena saranno annunciate date più precise, vi informeremo con un altro articolo.
Nel frattempo, ecco a voi la descrizione delle prossime due avventure in arrivo:
Dungeons & Dragons: Il Tesoro della Regina dei Draghi
In una temeraria mossa per conquistare il potere, il Culto del Drago, affiancato dai draghi suoi alleati e dai Maghi Rossi di Thay, cerca di liberare Tiamat dalla sua prigione nei Nove Inferi per scatenare la sua potenza nei Forgotten Realms. Le forze del culto flagellano ogni paese, distruggendo chiunque si opponga alla loro avanzata nel tentativo di radunare un mastodontico tesoro per la loro temibile regina. La minaccia è talmente grave che perfino le fazioni più inconciliabili, come gli Arpisti e gli Zhentarim, sono disposte a unire le forze per contrastare il culto. Non c'è mai stato un bisogno così disperato di nuovi eroi.

Lingua: edizione interamente in italiano
Data di uscita: Luglio 2018
Dungeons & Dragons: L'Ascesa di Tiamat
La campagna sacrilega del Culto del Drago per riportare Tiamat nei Forgotten Reams giunge al culmine. La sorte di ogni creatura di buon cuore si fa più precaria a ogni istante che passa e la battaglia assume anche una dimensione politica quando si presenta l'opportunità di reclutare nuovi alleati e di sfruttare i vantaggi inaspettati. Da Waterdeep al Mare del Ghiaccio Mobile fino al Thay, ha inizio una corsa contro il tempo e contro le forze del male: gli eroi trionferanno o soccomberanno all'oppressione della tirannia draconica? In entrambi i casi, il mondo non sarà mai più lo stesso.

Lingua: edizione interamente in italiano
Data di uscita: Settembre/Ottobre 2018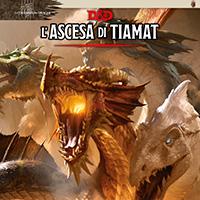 ---
News type: Prossima Uscita
---