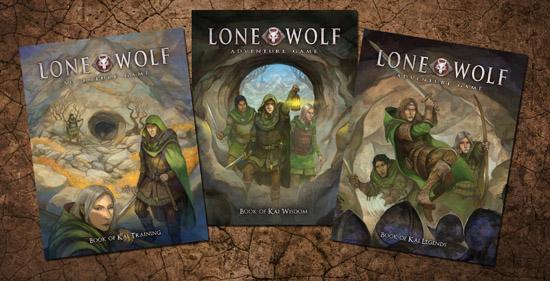 ---

By Alonewolf87, in Articles, , 0 comments, 989 views
---
Approfittate di questa ottima occasione per accaparrarvi i manuali dell'ultima incarnazione GdR di Lupo Solitario.
Il sito Bundle of Holding, di cui vi abbiamo già parlato in alcuni articoli recenti, presenta una nuova offerta per tutti gli amanti del Magnamund e di Lupo Solitario.
Questo Lone Wolf Bundle presenta al suo interno dei manuali del gioco Lone Wolf Adventure Game, basato sulla celebre serie di libri game di Joe Dever. Questo gioco di ruolo da tavolo prodotto dalla Cubicle 7 Entertainment vi permette di giocare un monaco-guerriero appartenente ai Cavalieri Ramas e di difendere il mondo del Magnamund contro le minacce di Helgedad. Il livello di gioco da Iniziato è perfetto per i novizi e per i giocatori più giovani, mentre i più esperti possono aumentare la complessità con il gioco a livello Maestro. Vi attendono avventure epiche, combattimenti avvincenti e grandi pericoli.
Questa nuova offerta presenta la quasi intera linea di manuali (in inglese NdT) di Lone Wolf Adventure Game per un prezzo praticamente imbattibile. Con soli US$14.95 otterrete tutti i manuali della nostra Starter Collection (del valore nominale di $69) sotto forma di file PDF senza DRM: questi manuali comprendono il manuale base a colori di Lone Wolf Adventure Game, il Heroes of Magnamund Expanded Character Handbook, il bestiario a colori Magnamund Menagerie, e la versione PDF del Narrator's Screen con utili tabelle e riferimenti.
2




E se pagherete più della soglia di US$28.84 salitere di livello e otterrete anche l'intera Bonus Collection, con quattro ulteriori supplementi del valore nominale aggiuntivo di $75, tra cui il manuale di ambientazione The Realm of Sommerlund, il Bestiary of the Beyond (con più mostri), la campagna Terror of the Darklords, e la raccolta di tre avventure Adventures of the Kai.




E non è finita qui! Con questo acquisto otterete anche un codice di sconto del 25% valido per l'acquisto delle copie fisiche dei manuali di Lone Wolf Adventure Game e dei dadi correlati sul sito web della Cubicle7.
---
---
Article type: Approfondimenti