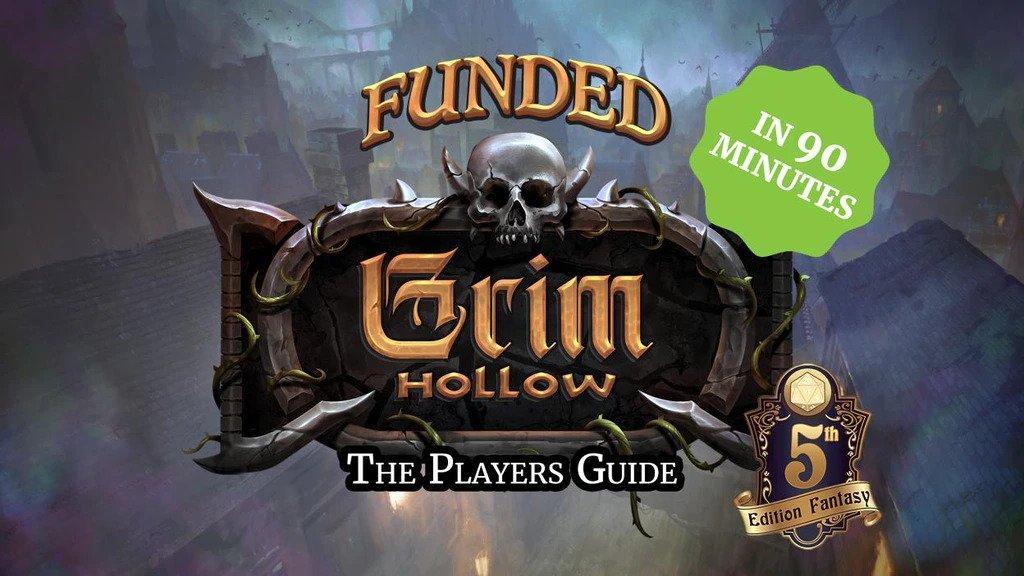 dnd 5e
Cosa c'è di nuovo su Kickstarter: Grim Hollow Players's Guide
Esplorate il Mondo di Grim Hollow, un'ambientazione Dark Fantasy dove i giocatori combattono il male...o soccombono ad esso diventando mostri a loro volta.
Dopo l'enorme successo della campagna Kickstarter per Grim Hollow: The Campaign Guide, che ha incassato ben più di 280,000$, la Ghostfire Gaming porta a casa un altro successo con Grim Hollow: The Player's Guide, finanziata in 90 minuti.
(Tutte le traduzioni presentate nell'articolo sono non ufficiali, NdT)
Grim Hollow è un'ambientazione Dark Fantasy situata nel mondo di Etharis, ricca di temi dark fantasy che richiamano l'horror gotico, il crudo realismo e le fiabe dei fratelli Grimm. Dai minacciosi ululati nella Foresta Nata Morta (Stillborn Forest) ai pericolosi piani escogitati nella città di Nov Ostoya, i giocatori troveranno conflitti e storie complesse ovunque si trovano.

Grim Hollow: The Players Guide è il manuale ideale per i giocatori che vogliono creare personaggi realistici in una campagna dark fantasy. Questo supplemento è compatibile con la 5E di Dungeons & Dragons ed è progettato per essere facile da usare sia per i principianti che per i veterani.

Questo manuale contiene nuove sottoclassi per ogni classe di D&D 5E. Ognuna ha un ruolo unico nel mondo di Etharis e porta con sé un tocco di Dark Fantasy. Dal Sangromante (Sangomancer) alimentato dalla Magia del Sangue (Blood Magic) al severo Giuramento dello Zelo (Oath of Zeal), ognuna di esse fornisce gli strumenti per sopravvivere in un'ambientazione Dark Fantasy.

Grim Hollow permette ai giocatori di trasformarsi lentamente in creature non più umane. In Grim Hollow: The Campaign Guide sono descritti i modi per diventare un Vampiro o un Lich, mentre in Grim Hollow: The Players Guide vengono mostrate le trasformazioni in Elementale ed Essere Fatato. La guida, inoltre, comprende diversi nuovi oggetti unici pensati per le trasformazioni, che ne migliorano i poteri e ne attenuano i difetti.
I livelli di contributi al Kickstarter vanno dal Town Militia di 22€ per il PDF della guida fino al superaccessoriato (con miniature, dadi in metallo, sacca in pelle colma di monete e l'edizione della guida con copertina in pelle) Vampire Grand Sovereign di 292€, ma se non avete contribuito alla precedente campagna Kickstarter vi consigliamo il Discount Campaign Guide da 82€ che comprende le versioni cartacee + PDF sia di Grim Hollow: The Players Guide che di Grim Hollow: The Campaign Guide.

Ci sono ancora molti contenuti da sbloccare in questo Kickstarter e gli autori potrebbero farlo anche grazie al vostro contributo per Grim Hollow: The Player's Guide.
---
Link al Kickstarter: https://www.kickstarter.com/projects/977277590/grim-hollow-the-players-guide
---
News type: Crowdfunding
---