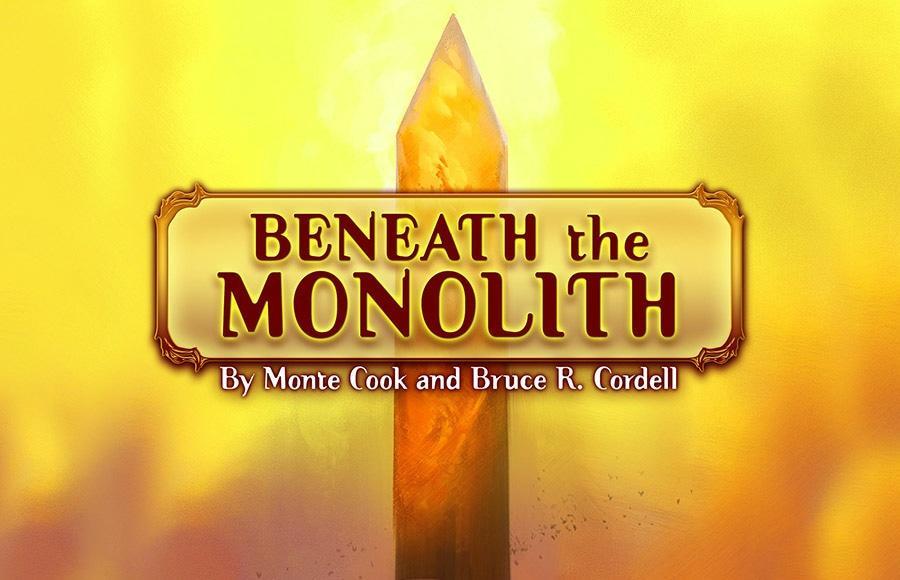 Dopo l'assaggio iniziale di Arcana of the Ancients, la Monte Cook Games ha rilasciato finalmente la propria acclamata ambientazione di Numenera per D&D 5a Edizione.
Articolo della Monte Cook Games del 08 Luglio 2020
Beneath the Monolith porta l'ambientazione del pluripremiato gioco di ruolo fantascientifico Numenera nelle vostre partite a D&D 5E!
Portate il vostro mago, ranger e ladro al Monolito d'Ambra, attraverso i Campi Celesti di Nembocristallo e verso le altre meraviglie del Nono Mondo.
Il Nono Mondo:
Dicono ci siano stati otto mondi prima del nostro. Per otto volte le genti di questo pianeta, nel corso di estesi millenni, costruirono le loro civiltà, raggiungendo apici che ora non possiamo nemmeno immaginare appieno. Parlarono alle stelle, rimodellarono le creature del mondo e padroneggiarono la forma e l'essenza. Costruirono città e macchine che da allora sono ridotte in polvere, lasciando solo i loro pochi resti.

Questo è il Nono Mondo. Le genti dei mondi precedenti sono scomparse: sono disperse, svanite o trascese. Ma le loro opere restano, in luoghi e dispositivi che contengono ancora qualche germe della loro funzione originaria. Per gli ignoranti, questi meccanismi degli antichi sono magici. Ma i saggi sanno che non è così ...
Il Nono Mondo è l'ambientazione di Numenera, il pluripremiato gioco di ruolo di Monte Cook. Beneath the Monolith porta questo mondo tanto apprezzato nella 5e. Esplorate le rovine di civiltà incomprensibili. Scoprite i numenera, le antiche tecnologie tanto avanzate che la maggior parte delle persone pensano si tratti di magia. Incontrate creature strane, feroci e pericolose. Aprite le porte a nuovi mondi e a dimensioni alternative. E, forse, svelate alcuni dei misteri dei mondi precedenti.

Questa è una delle uscite più richieste: fan di D&D 5e, venite a visitare il Nono Mondo!

La nostra prima uscita per la 5e, Arcana of the Ancients, vi aiuterà a ottenere il massimo da questa ambientazione. Contiene svariati cyphers, artefatti, creature e contenuti aggiuntivi per dare vita a una campagna nel Nono Mondo, insieme a ottimi consigli e informazioni su come giocare strane partite science-fantasy in D&D 5e.
NDT: per chi fosse interessato a dare un'occhiata a Beneath the Monolith prima di acquistare l'ambientazione, la Monte Cook Games ha messo a disposizione un'anteprima gratuita su DrivethruRPG.
---
Link all'articolo originale: https://www.enworld.org/threads/monte-cook's-numenera-setting-comes-to-5e-with-beneath-the-monolith.673164/
---
News type: Uscita
---