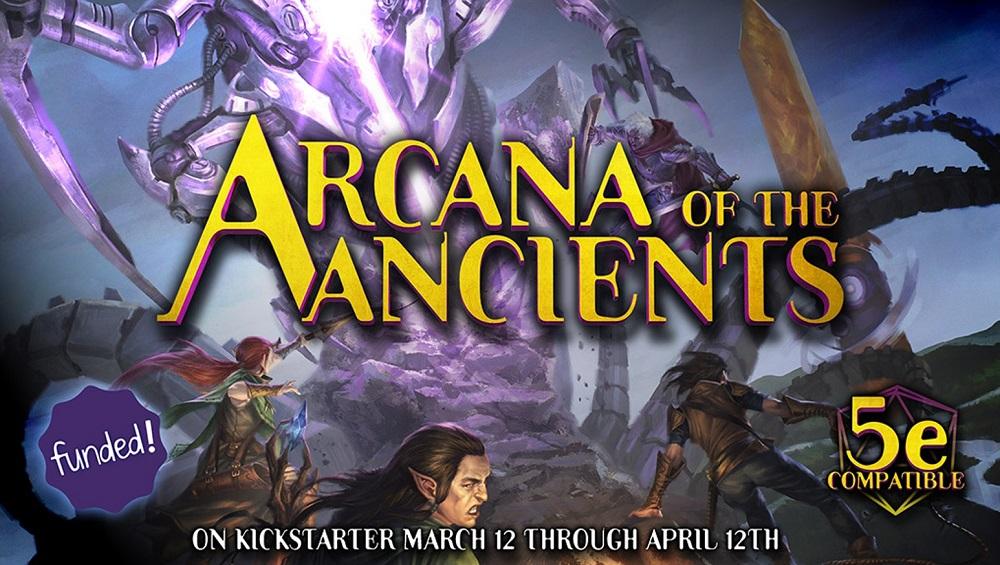 dnd 5e
Arcana of the Ancients - Periodi di uscita e una Anteprima PDF
Monte Cook Games ha rivelato i periodi di uscita dei manuali di Arcana of The Ancients, la conversione per la 5e del mondo di Nuemera. Per l'occasione ha anche rilasciato un'anteprima PDF così da fornirci un assaggio delle regole.
Arcana of the Ancients, la conversione per la 5e del mondo di Numenera (di cui vi avevamo già parlato qui e qui), sta finalmente per giungere nei negozi. La Monte Cook Games, infatti, ha di recente pubblicato un aggiornamento sulla pagina Kickstarter collegata al progetto, nella quale ha rivelato i periodi di uscita dei vari manuali collegati ad Arcana of the Ancients, anche se al momento si tratta solamente di date indicative:
Arcana of the Ancients, il manuale contenente le regole essenziali per giocare a campagne Science Fantasy nella 5e in pieno stile Numenera, arriverà nel Marzo 2020. Nello stesso periodo uscirà anche una Deluxe Edition dello stesso manuale.
 
Jade Colossus Conversion Guide, invece, un supplemento di conversione alle regole della 5e per il manuale di Numenera intitolato Jade Colossus (un supplemento contenente informazioni su alcune delle rovine risalenti ai precedenti 8 mondi esistiti nell'ambientazione di Numenera), arriverà intorno a Giugno 2020.
 
Beneath the Monolith, il manuale d'ambientazione che porterà il Nono Mondo (l'ambientazione di Numenera) nella 5e, è previsto per l'Estate 2020.
 
Beasts of Flesh & Steel, invece, il manuale dei mostri di Arcana of the Ancients, dovrebbe arrivare nell'Autunno 2020.
 
La prima avventura per Arcana of the Ancients, infine, Where the Machines Wait, non ha ancora una data di uscita, ma arriverà dopo la pubblicazione di Beasts of Flesh & Steel.
Non sono ancora disponibili informazioni su una traduzione in italiano di questi manuali.
L'Anteprima PDF di Arcana of the Ancients
Considerato che la data di uscita di Arcana of the Ancients si avvicina, la Monte Cook Games ha deciso di far uscire un PDF gratuito contenente alcune delle regole che troveremo all'interno del manuale completo. Potete scaricare l'Anteprima PDF di Arcana of the Ancients su DriveThru RPG al seguente link:
https://www.drivethrurpg.com/product/301274/Arcana-of-the-Ancients-FREE-PREVIEW
Come spiegato nella descrizione del PDF su DriveThru:
Arcana of the Ancients porta nelle vostre campagne fantasy le meraviglie di una tecnologia misteriosa e dei bizzarri elementi del Science Fantasy (il genere che mischia il Fantasy con la Fantascienza, NdTraduttore). Progettato dai maestri del fantasy Monte Cook, Bruce R. Cordell e Sean K. Reynolds, questo manuale straordinariamente illustrato vi fornisce tutto quello di cui avrete bisogno per aggiungere un intero nuovo elemento alle vostre campagne della 5a Edizione.
Arcana of the Ancients include:
Centinaia di crypto (cypher), artefatti e di altri oggetti che incorporano la tecnologia science-fantasy.
Più di 50 creature science-fantasy, ognuna delle quali provviste di straordinarie illustrazioni e di completi blocchi di statistiche basati sulle regole della 5e.
Pagine piene di consigli per il GM e di linee guida utili per aggiungere concetti science-fantasy ad una campagna già esistente...o per creare dalle fondamenta una campagna science-fantasy del tutto nuova.
The Hills of Crooked Sleep (Le Colline del Sonno Corrotto, traduzione non ufficiale), una considerevole avventura che potrete inserire nella vostra campagna fin da ora in modo da introdurre antiche civiltà, bizzarre tecnologie e nuove strane creature. In aggiunta avventure complete addizionali!
Una introduzione scritta da Jim Davis e Jonathan Pruitt del sito Web DM.

---
---
News type: Prossima Uscita
---