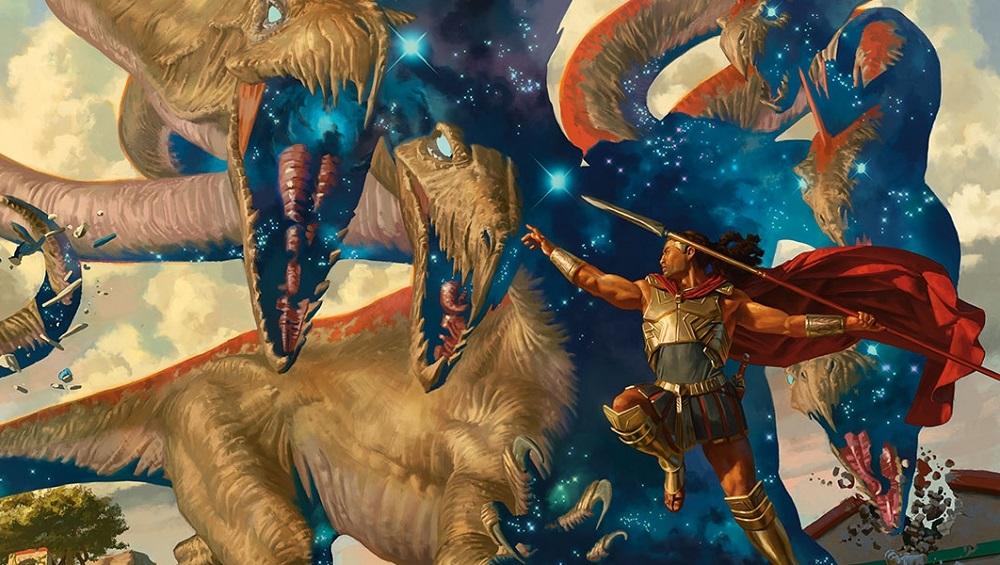 dnd 5e
Mythic Odysseys of Theros è stato posticipato a Luglio
La WotC si è trovata costretta a posticipare il prossimo manuale per D&D 5e a causa del Coronavirus
Mythic Odysseys of Theros, il nuovo supplemento per D&D 5e dedicato al tema dell'Antica Grecia (di cui vi avevamo parlato qui e qui), è stato appena posticipato a causa del coronavirus. La nuova data di uscita è il 21 Luglio 2020, come riportato dalla pagina ufficiale del supplemento sul sito della WotC.
Come ben saprete, infatti, la malattia Covid19 sta condizionando il lavoro di numerose aziende, rendendo difficile rispettare le tempistiche inizialmente previste. In questo caso specifico, il problema è dovuto al fatto che, essendo chiuse le tipografie, la WotC non ha attualmente modo di far stampare il manuale. Per evitare di ostacolare i giocatori che preferiscono fare affidamento sulle versioni digitali dei manuali, tuttavia, la WotC ha deciso di far uscire queste ultime ugualmente il 2 Giungo e di garantire uno sconto del 50% sull'acquisto della versione digitale su D&D Beyond ai primi 20 giocatori che preordineranno o compreranno Mythic Odysseys of Theros in uno dei negozi appartenenti al circuito Wizards Play Network.
Qui di seguito potete trovate la traduzione dell'annuncio ufficiale della WotC:
Le tipografie da cui Dungeons & Dragons dipende per la creazione di fantastiche aggiunte alla vostra collezione di Gdr sono state chiuse, in modo tale da mantenere tutti al sicuro durante questo periodo. Sfortunatamente, questo significa che ci vorrà un po' di più per vedere Mythic Odysseys of Theros sui vostri scaffali. Preparatevi a scegliere tra la copertina standard e quella alternativa nel vostro negozio di giochi locale il 21 Luglio. Se l'utilizzare le piattaforme digitali è una cosa maggiormente per voi, siete fortunati perché avrete modo di accedere al contenuto di Mythic Odysseys of Theros il 2 Giugno su Roll 20, Fantasy Grounds e D&D Beyond.

Questo non è tutto! Daremo a tutti i fan ragioni per supportare i loro amichevoli negozi di giochi locali. Qualunque negozio appartenente al circuito Wizards Play Network avrà la possibilità di garantire una mappa di riferimento fisica utilizzabile con gli incontri e i mostri presenti nel manuale E codici unici ai primi 20 fan che preordineranno o compreranno Mythic Odysseys of Theros, codici che consentiranno di acquistare la versione digitale del manuale con lo sconto del 50% su D&D Beyond!

Anche se non potrete giocare la vostra prossima campagna dell'Adventurers League in persona nel vostro negozio preferito, vogliamo aiutare a supportare le attività locali responsabili di fornire cameratismo e gioia infiniti. Grazie a voi, negozi di giochi, per aver collaborato con la Wizards of the Coast in modo da rendere tutto questo possibile!

---
---
News type: Prossima Uscita
---