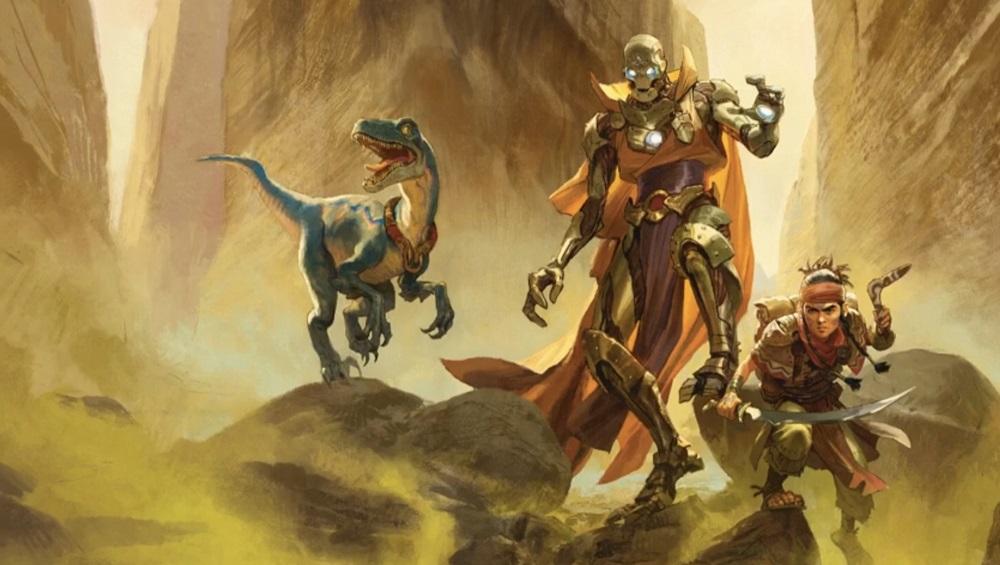 dnd 5e
Ecco la vera copertina di Eberron Rising from the Last War
La WotC ha mostrato quella che sarà la copertina definitiva del primo manuale cartaceo dedicato all'ambientazione di Eberron nella 5e.
Qualche tempo fa vi avevamo segnalato il fatto che la copertina fin ora mostrata di Eberron: Rising from the Last War, in uscita il 19 Novembre 2019 (potete trovare qui e qui maggiori informazioni sul supplemento), non era quella definitiva. Jeremy Crawford della WotC, infatti, aveva scelto di avvisare subito tutti del fatto che si trattava di una immagine segnaposto, vista la preoccupazione che si era diffusa presso molti giocatori sulla qualità di quella prima immagine.
La WotC, dunque, in questi giorni ha deciso di mostrare la copertina definitiva di Eberron: Rising from the Last War, che potrete vedere in fondo a questo articolo assieme all'illustrazione da cui è stata tratta (come al solito, per ingrandire le immagini cliccate su di esse).
In un video dedicato al nuovo supplemento su Eberron, Jeremy Crawford e Greg Tito della WotC hanno inoltre fatto le seguenti dichiarazioni sulla copertina del manuale, precisando ulteriormente che l'immagine precedentemente usata, tratta da una illustrazione di Ben Oliver, era in realtà pensata per un uso interno al manuale:
Tito: Abbiamo deciso di cambiare questa copertina, in ogni caso. Avremo una copertina differente per questo manuale... Abbiamo avuto la rara occasione di cambiarla, perchè i file (della copertina, NdTraduttore) non erano ancora stati inviati allo stampatore.
Crawford: Questo è corretto. Quando il manuale è stato annunciato eravamo ancora a una settimana dall'invio del manuale alla stampa. Abbiamo avuto una finestra di tempo per sostituire la copertina, il che era qualcosa su cui avevamo iniziato a discutere già da un po' di tempo quando ormai l'annuncio era imminente.
Tito: Ma, una volta annunciato (il manuale, NdTraduttore), abbiamo ricevuto anche molto feedback da parte dei giocatori che indicava che essi volevano una copertina differente e quel feedback ci ha galvanizzati...dunque l'abbiamo cambiata con questa copertina disegnata da Wesley Burt.
L'illustrazione della nuova copertina era già nel manuale ed è stata spostata in copertina, mentre quella usata in precedenza (di Ben Oliver) è stata riutilizzata come immagine iniziale per il Capitolo 1 (quello dedicato alla creazione del personaggio).
Ecco qui di seguito la nuova copertina e l'immagine da cui è stata tratta:


---
---
News type: Anteprima
---