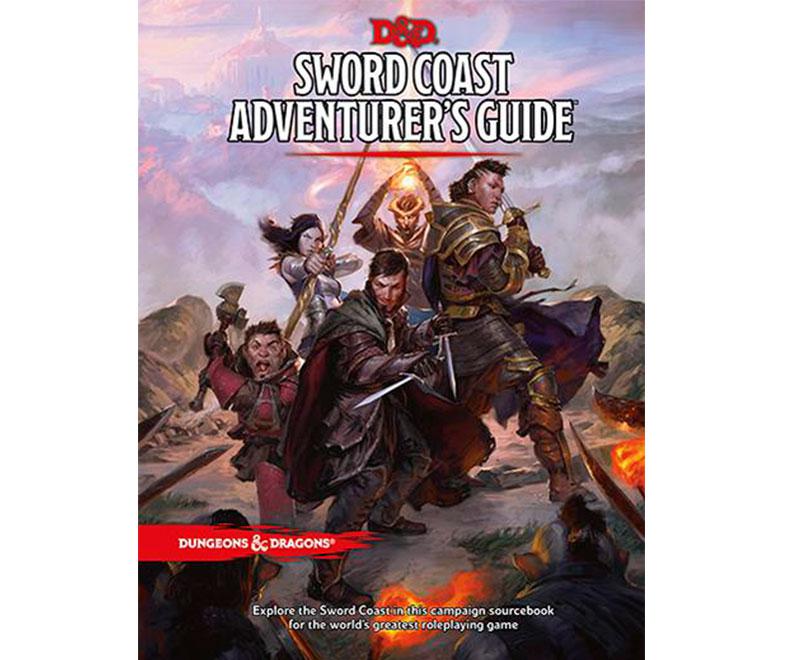 Sword Coast Adventurer's Guide: la prima ambientazione per D&D 5e
By aza
3.6k views
E' stata annunciato il primo manuale di ambientazione per D&D 5e.
RAVVIVA LA TUA STORIA
Con la Sword Coast Adventure's Guide questo Autunno
Nuove Opzioni di Classe, Background e descrizioni di divinità dai Forgotten Realms
Ottieni tutto quello di cui hai bisogno per l'Avventura nei Forgotten Realms presso l'emozionante Costa della Spada, dimora delle città Baldur's Gate, Waterdeep e Neverwinter! Frutta della collaborazione fra la Green Ronin Publishing e il team di D&D della WotC, la Sword Coast Adventure's Guide garantirà ai fan di D&D una ricca quantità di dettagli riguardanti i luoghi, le culture e le divinità del Faerun Nord-occidentale.
La Sword Coast Adventure's Guide, inoltre, è una grande opportunità per aggiornarsi sui recenti eventi accaduti nei Forgotten Realms, per ottenere informazioni sugli antefatti relativi ai luoghi collegati con la storyline "Furia dei Demoni" (Rage of Demons) in arrivo a Settembre, e per imparare le informazioni che fanno da sfondo a videogiochi quali Neverwinter e Sword Coast Legends.
Ecco qui qualche esempio di ciò che pootrete trovare all'interno della Sword Coast Adventure's Guide:
Avventure immersive: questo supplemento di Campagna garantisce a giocatori e DM il materiale necessario per creare entusiasmanti avventure fantasy presso la Costa della Spada.
Nuove Opzioni per i Personaggi: questo libro offre nuove Sottoclassi, come il Cavaliere del Drago Purpureo (Purple Dragon Knight) e lo Spadaccino (Swashbuckler), per molte delle Classi presentate nel Manuale del Giocatore, così come nuove Sottorazze e Background specifici per i Forgotten Realms.
Avventure nei Forgotten Realms: Scoprite lo stato corrente dei Forgotten Realms e delle sue divinità dopo la Piaga degli Incantesimi (Spellplague) e dopo il secondo Sundering. Riceverete, inoltre, mappe aggiornate di quest'area dei Forgotten Realms.
Compatibile con la Rage of Demons Storyline: Vrea un personaggio per l'Avventura Out of the Abyss e respingi l'influenza dei Demoni presso l'Underdark al di sotto della Costa della Spada.
Informazioni privilegiate: apprendi le informazioni relative al retroscena dei luoghi, come Luskan e Gracklstug, presentati all'interno del videogioco Sword Coast Legends, della n-Space.
Con i nuovi Background e le nuove opzioni di Classe, i giocatori ameranno le possibilità narrative garantite dal giocare un nobile di Waterdeep, un elfo cantore della Spada (Bladesinger) o una delle altre nuove opzioni, mentre il DM assaporerà un libro pieno di luoghi misteriosi e spunti per le storie, così da coinvolgere i giocatori all'avventura sulla Costa della Spada per gli anni a venire.
In uscita il 3 Novembre.
Edited by aza
---
News type: Prossima Uscita
---