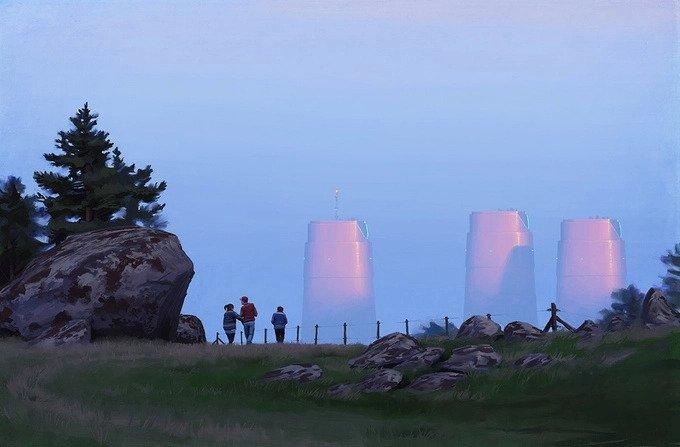 altro gdr
Ecco a voi il trailer della serie TV di Tales From the Loop
Tales from the Loop, il pluripremiato GdR nato da un arbook, sarà presto una serie tv originale Amazon. Date un occhiata al fantastico trailer.
Tales from the Loop nacque nel 2014 come un artbook di Simon Stålenhag, i cui artistici disegni ci portano negli anni '80 che non sono mai esistiti, pieni di paesaggi della Svezia rurale e di un impossibile mix di robot high tech, hovercraft e altri strani fenomeni mai esistiti, ma che sembrano integrarsi perfettamente con la ruggine e i boschi sconfinati. Qualche tempo dopo divenne un GdR, pubblicato grazie ad un Kickstarter di grande successo da Fria Largan AB nel 2017, che permette ai giocatori di giocare in quel mondo.

Tales from the Loop ora diventerà una serie originale Amazon e porterà gli spettatori a visitare altri angoli del mondo del Loop, dove un avanzato acceleratore di particelle ha aiutato a far nascere tutta una serie di scoperte fantastiche che hanno modificato la realtà. Mark Romanek, regista di One Hour Photo, Non Lasciarmi e di video musicali come Sandcastles di Beyoncè, Shake it Off di Taylor Swift e la versione di Johnny Cash di Hurt, dirigerà il progetto e Stålenhag stesso ne sarà lo scrittore. Diamo un'occhiata al trailer e tuffiamoci ancora una volta nel mondo del Loop.
Hanno fatto davvero un lavoro eccellente nel catturare l'essenza di quel mondo. I robot high tech danno la sensazione di essere usurati e di vivere lì da sempre. La ruggine e le stranezze sembrano essere giusto un'altra parte della cittadina attorno al Loop. In particolare i mecha con i power gloves catturano un momento uscito direttamente da una delle illustrazioni. E i numerosi bambini vestiti con i colorati indumenti anni '80 sembrano indicare che la serie sarà incentrata sulle avventure dei solitari, dei perdenti, dei disadattati, dei nerd, degli sportivi e degli altri bambini che fanno parte dell'elemento umano del Loop.
Per celebrare la prossima uscita della serie tv su Amazon, Free League Publishing ha annunciato un nuovo starter set per il gioco di ruolo di Tales from the Loop. Il nuovo set in scatola, contenente un nuovo scenario chiamato The Recycled Boy (Il ragazzo riciclato) è già disponibile per il pre-ordine.

In Tales from the Loop RPG, i giocatori assumono i ruoli di ragazzini il cui compito è risolvere gli spettacolari misteri connessi con il Loop, un enorme e misterioso acceleratore di particelle sotterraneo.
Il nuovo Starter Set è il punto iniziale ideale per i giocatori che vogliano muovere i primi passi dentro il mondo del Loop, la scatola ha in copertina un disegno di Stålenhag realizzato appositamente per la serie tv e contiene tutto ciò che serve ai giocatori per cominciare:
Un manuale illustrato che spiega come giocare
L'avventura completa chiamata The Recycled Boy di Nils Hintze
Cinque personaggi pregenerati pronti da giocare
Una grande mappa a colori della terra del Loop
10 dadi con incisioni personalizzate.
Lo starter set verrà rilasciato in Aprile ed è già disponibile per il pre ordine a 248 SEK ( 23€ circa) sul nuovo sito dedicato a Tales from the Loop RPG. Tutti i pre ordini riceveranno un PDF subito dopo l'acquisto.

Con misteri ovunque, cosa troverete? Quale sarà il nuovo racconto dal Loop?
Cosa ne pensate del trailer e dello Starter Set? Fatecelo sapere nei commenti!
---
Edited by Alonewolf87
---
News type: Anteprima
---