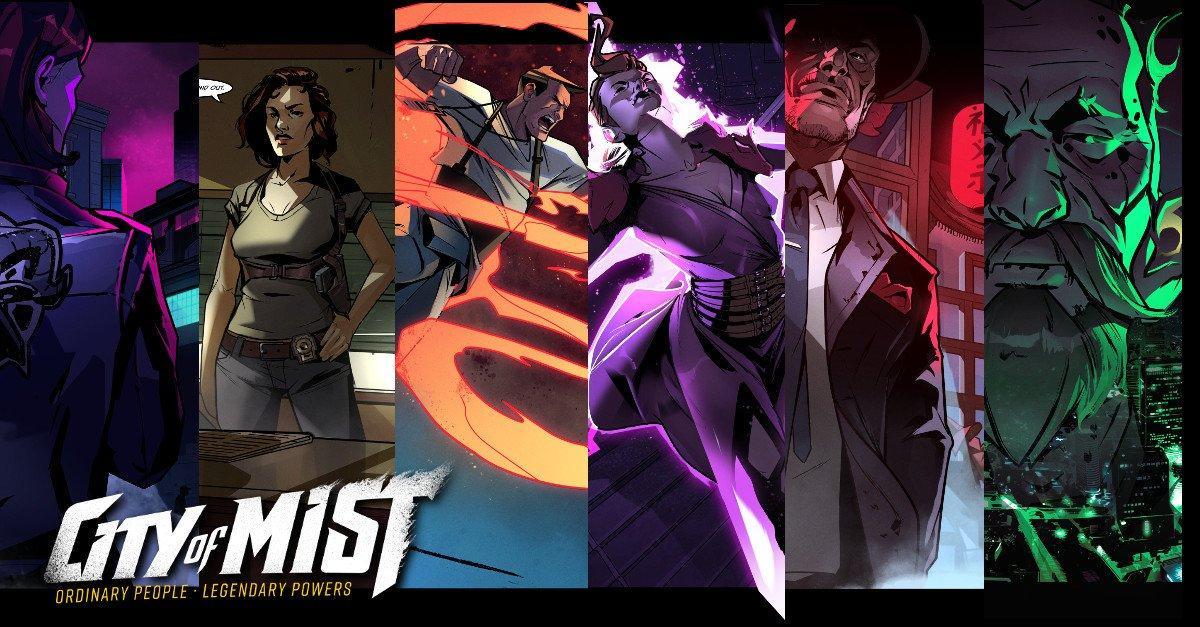 altro gdr
City of Mist è Ufficialmente Uscita
Possiamo ora annunciare l'uscita ufficiale del GdR City of Mist sul mercato italiano, su iniziativa della Isola Illyon Edizioni.
Isola Illyon Edizioni è lieta di annunciare che a partire dall'08 ottobre 2018 è finalmente disponibile l'edizione italiana dell'atteso gioco di ruolo City of Mist.
Ideato da Amít Moshe e pubblicato dal suo team Son of Oak Game Studio, City of Mist mette i giocatori nei panni di persone comuni che rappresentano l'incarnazione vivente di miti e leggende, nascosti agli occhi degli altri da una strana Nebbia che sembra apparire a coprire tutto proprio quando i poteri di questi miti si manifestano. Ispirata ai film noir e alle avventure investigative, l'opera vede i giocatori immergersi in una città che sembra vivere di false apparenze, portandoli alla ricerca di risposte su se stessi in una continua lotta tra l'esistenza comune e quella "leggendaria".
Il gioco dà molto spazio all'interpretazione più che ai calcoli numerici sfruttando un sistema di Roll + Tags (Lancio + Attributi), un motore narrativo unico ed estremamente facile da padroneggiare che mixa il Powered by the Apocalypse (PbtA) di Apocalypse World ad altri sistemi che utilizzano Attributi e Tag.
Proprio come se ci si trovasse in una serie tv o in un fumetto, in City of Mist il proprio personaggio si sviluppa e cresce con le scelte che si compiono; in base al modo con cui ci si approccia alle varie situazioni si possono acquisire o perdere Temi, utilizzare Mosse cinematografiche per creare sviluppi drammatici o emozionali attraverso le proprie azioni, e sfruttare le tantissime possibilità offerte dagli Attributi per generare un alter ego che rispecchi i propri desideri.
Il Manuale di City of Mist è composto da 512 pagine a colori con copertina rigida cartonata e include tutto il necessario per poter giocare, partendo da una dettagliatissima descrizione del setting fino a una guida per la creazione di ogni aspetto del proprio personaggio, con tanto di numerosi esempi e consigli per gestire al meglio sessioni e gruppi di gioco.
È possibile acquistare il Manuale sullo shop dell'editore, all'indirizzo:
https://www.isolaillyonedizioni.it/prodotto/city-of-mist-manuale-base
Come è già capitato in passato con Awaken, sempre distribuito dalla Isola Illyon, vi forniremo nei prossimi mesi una recensione diretta anche di questo GdR, quindi rimanete sintonizzati.
In merito a Isola Illyon Edizioni. L'azienda è stata fondata da Luca Scelza e Mario Ferrentino, e ha lo scopo di rivoluzionare il mondo dell'informazione e dell'editoria ludica grazie all'approfondimento giornalistico del portale https://www.isolaillyon.it, ai GdR, e ai prodotti editoriali che verranno annunciati e pubblicati.
---
News type: Uscita
---