God of War 4: "Kratos with a beard"
---
Buone notizie per gli amanti del greco più incacchiato della storia videoludica.
Ieri sono state infatti leakate una trentina di concept arts, mentre due tweets confermano il quarto capitolo della saga.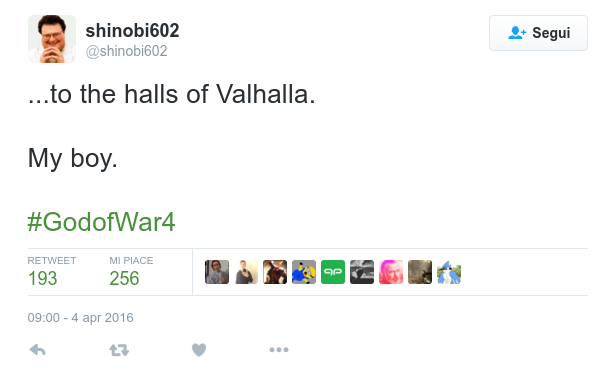 Mentre le immagini leakate le potete trovare qui (avvertitemi se la galleria viene cancellata: ho scaricato tutte le immagini per sicurezza, anche se vorrei evitare di mangiarmi tutto lo spazio di upload per caricare 30+ foto
)

Cosa sappiamo per ora?
È stato confermato Kratos come protagonista
Il setting sarà la mitologia nordica (ciao ciao Olimpo, benvenuto Valhalla)
Kratos visiterà Alfheim, ma non ho capito se Alfheim sarà tutto il mondo di gioco o solo una delle sue locations
Kratos verrà imprigionato almeno una volta
Come si può vedere dall'ultima immagine della galleria, una delle armi di Kratos sarà l'ascia
Si potrà interagire col paesaggio (sembra che se Kratos prederà contro ai rampicanti che si vedono in alcune delle immagini, questi rilasceranno delle spore, un pò come l'aggeggio che ha in mano il krogan nell'inserzione di ieri)
Considerate però che siamo ancora in alto mare, quindi è possibile, anzi probabile, che alcune delle cose qui mostrate o non saranno presenti, o verranno modificate per la build finale del gioco.

P.S.


Kratos con al barba fa riderissimo.