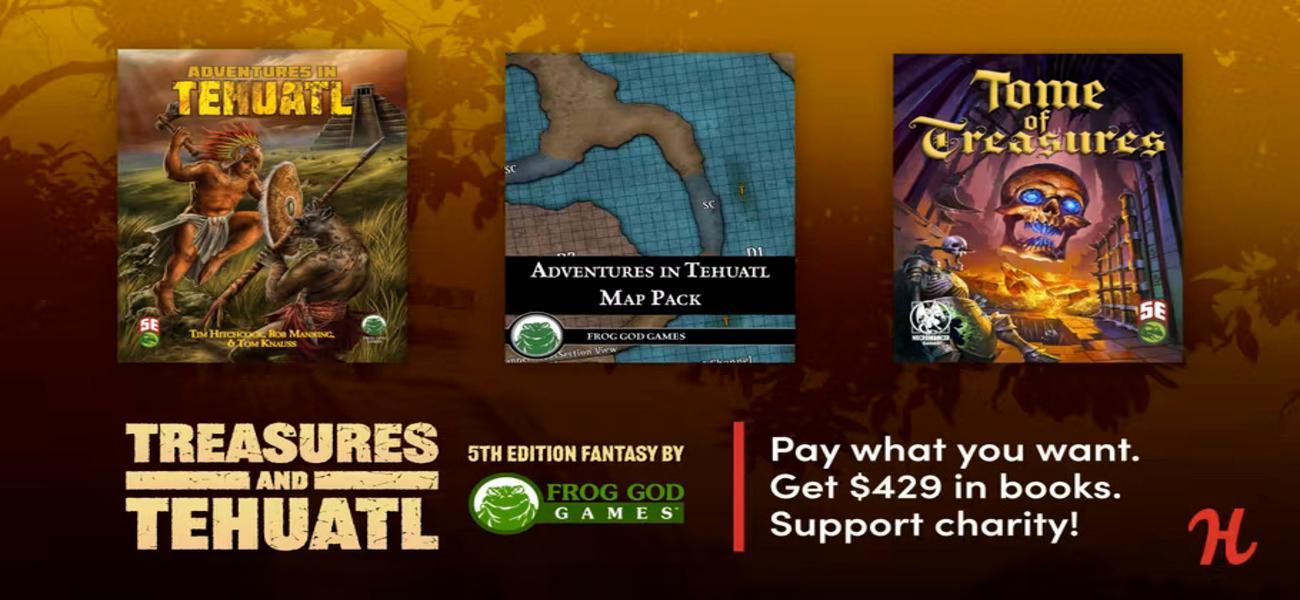 ---
dnd 5e
Humble Bundle: Treasures and Tehuatl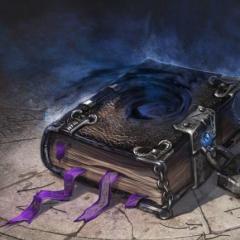 By Grimorio, in News, , 0 comments, 298 views
---
Un nuovo, ricchissimo Humble Bundle di materiale per Dungeons & Dragons 5a Edizione.
Humble Bundle e Frog God Games tornano a collaborare per offrire al pubblico un'enorme quantità di contenuti per D&D 5a Edizione, un tesoro dal valore di quasi 410€  a soli 41,14€.
Il bundle presenta un misto di avventure, bestiari, mappe e token per VTT e supplementi utili al DM offerti principalmente da Frog God Games, con anche  la partecipazione di altre case editrici come Troll Lord Games, Nord Games e Art of the Genre.
Come per molti altri Humble Bundle, anche questo è diviso per fascia di prezzo, in modo che possiate decidere quale cifra spendere e cosa portarvi a casa, queste sono le quattro possibili fasce di prezzo e i loro contenuti.
Bundle da 6 Articoli - 1€
Con cui potrete acquistare i pdf di cinque avventure e un supplemento per le trappole.
Chaos Rising
The Mortality of Green
A Malady of Kings
The Folio - Beneath Roslof Keep
The Folio Tremors in the Machine
Treacherous Traps
Bundle da 16 Articoli - 9,56€
Oltre ai prodotti del bundle da 1€ riceverete anche:
Tehuatl Bestiary
Tehuatl Poster Map
Tehuatl Player's Guide
Ultimate Bestiary - Revenge of the Horde
The Folio - Secrets of the Wildlands
The Folio - Curse of the Violet Corruption
Dwarven Glory
The Long Valley
Chaos Rising: Into The Abyss
Maize and Monsters
Bundle da 34 Articoli - 17,22€
Con questo bundle vi porterete a casa i contenuti dei precedenti due bundle oltre a:
Hidden Shrine of Tmocanotz
Tehuatl - System Neutral
Ultimate Bestiary - The Dreaded Accursed
The Folio - Realms of Madness and Despair
The Folio - Deep Dive in the Flooded Halls
Aihrde Map
Aihrde Fantasy Campaign Primer
Stains Upon the Green
Into the Unknown
Terror at Wulf's Head
Maize and Monsters VTT Maps
Hidden Shrine of Tmocanotz VTT Maps
Tehuatl - System Neutral VTT Maps
Chaos Rising VTT Maps
Tehuatl Bestiary - 5th Edition Tokens
Tome of Treasures
Adventures in Tehuatl VTT Maps
Adventures in Tehuatl
Bundle da 35 Articoli - 41,14€
Come potete intuire dal prezzo e dal fatto che aggiunga un solo articolo rispetto al bundle precedente questo è un bundle particolare. Infatti, oltre ai contenuti digitali di tutti gli altri bundle, offre la possibilità di acquistare la versione cartacea in copertina rigida del Tome of Treasures della Frog God Games.

Il Tome of Treasures è un supplemento pieno di tabelle di tesori non magici descritti in modo particolareggiato che permette al DM di determinare con un semplice tiro di dado i contenuti delle tasche dei nemici uccisi e delle stanze di un dungeon. Uno strumento molto utile per chi volesse cimentarsi in Tavoli Aperti e campagne West Marches e volesse seguire il consiglio di rifornire di nuovi tesori vecchi dungeon già esplorati in precedenza. Essendo i tesori completamente mondani è quindi utilizzabile con qualsiasi edizione di D&D e virtualmente con qualsiasi altro gioco di ruolo fantasy.
Un'altra particolarità del Tome of Treasures è quella di essere stato realizzato dalla Frog God Games in collaborazione con Kaizoku Press, l'editore per la versione italiana dei prodotti Frog God Games per la 5a Edizione.
L'associazione a cui andranno in beneficenza i soldi racconti con questo Humble Bundle è la Navy-Marine Corps Relief Society, la quale si occupa di prestare aiuto finanziario e formativo ai membri della Marina Militare Americana e del Corpo dei Marine e alle loro famiglie.
---
---